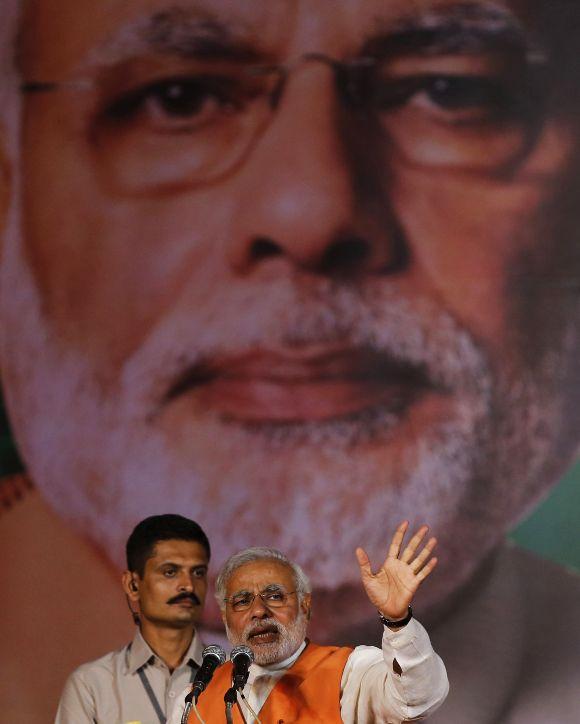 'The Prime Minister is doing his best to improve the image of India'.
'I am sure the government will succeed; I do not want to be proved wrong'.
'Making money should not be a sin'.
Anil Agarwal, below, left, has an ability to brush aside his worries with a cheerful smile as he reasserts his faith in Prime Minister Narendra Modi, who 'has no personal agenda' according to him.
In an interview with Shyamal Majumdar and Jyoti Mukul, the 61-year-old chairman of Vedanta Resources says making money should not be seen as a sin, and talks about the need for the government to sit across the table with big companies to sort out their issues.
Excerpts:
This must be one of the worst phases for your group. . . giving you sleepless nights. . .
I sleep quite well; and why not?
I have never defaulted on any loan; my group and I have never done anything unethical or illegal.
Yes, some of the group companies have faced tough times in the past five years, but I have patience and belief.
We will come back strongly.
Prime Minister Narendra Modi has made sure India is back on the radar.
He met President Obama four times in a year.
It's not easy to meet Japanese Prime Minister Shinzo Abe thrice.
The whole world is looking at all this.
But do you think the government is ignoring the domestic companies in its bid to attract the attention of global ones?
Well, door ke dhol suhavane lagte hain (drumbeats sound better from a distance).
But I think the government is trying its best, and is learning.
The Prime Minister doesn't have any personal agenda and is doing his best to improve the image of India.
I am sure the government will succeed; I do not want to be proved wrong.
If you are so happy with the government, why did Cairn India go to court for an early decision on crude oil sale and extension of the production-sharing contract?
I have only exercised my democratic rights. We have been talking to the government for a long time; there probably was a delay.
Cairn is a healthy company and I don't want it to be on crutches.
Why make it sick?
For that matter, the government should not push any Indian company to crutches if it has worked within the legal framework.
It is my responsibility to give the government the right price of crude oil.
That can be determined only if I sell outside.
I can ask the local refinery to determine the price, but today I sell it at a discount to the Brent price.
I must get a better price.
There is no ban on export but the process has to be simplified. There is no buyer here. We would like to fetch better price.
What would you like the government to do?
I would like it to keep things simple -- be it the tax regime or ease of doing business.
There are only 10 companies like Cairn.
It is important to recognise them because they can deliver.
It is important to motivate them.
Like start-ups in technology, start-ups should come up in manufacturing, too.
But India still has a public-sector culture.
A few things have happened in the private sector but they can happen 100 times more.

What you are saying is that the government has good intentions but the sense of urgency is missing. . .
May be.
Large infrastructure requires large investment.
The government should sort out large companies' disputes, across the table. That happens in all progressive nations.
The Vedanta group is still battling perception issues. It has had quite a controversial journey. Why is it so?
Making money should not be a sin.
Whoever we meet asks us to set up a factory. But when we do that and invest, the same people take pot shots at us -- see how the rich are exploiting the poor.
Have I violated any law?
Have I defaulted on loans? Can anybody give proof that I have been unethical?
The answers to all these questions will be a big 'No'. We need to be careful. Book somebody only if he is a culprit.
We do good business by doing good.
The Vedanta group spends Rs 250-300 crore (Rs 2.5-3 billion) a year on corporate-social responsibility.
In Odisha, I want to create the country's largest 'university town' on the lines of Boston.
I am putting 75 per cent of my personal wealth into CSR and want to increase it to 90 per cent. The focus areas will be children up to the age of six, woman empowerment through self-help, and a large education city.
What is the status of your tax dispute?
It is unfortunate.
There was a retrospective tax on Cairn Energy. But now the government has agreed to appoint an arbitrator. . .
For such a small thing, hundreds of billions of dollars were sitting on the fence. The confidence is lost.
You seem to be really hurt by the government's actions. . .
No, I think the PM is doing a fantastic job.
As for me, I0 have done a lot in the past 10-15 years. I started with copper smelter. I wanted to do it in Ratnagiri but then moved to Tuticorin.
I set it up and made it a success.
I took over Balco and then there was a huge strike, but now the company is 10 times bigger.
I understand India. We wanted raw material; so we set up a plant in Odisha and invested Rs 60,000 crore (Rs 600 billion).
In Hindustan Zinc, there was hardly anything there. We did exploration and created value and I am now willing to pay Rs 25,000 crore (Rs 250 billion).
Nothing happened in one go. But I am confident that things will look up. One needs to be patient.
How do you stay patient when your Niyamgiri mining project is in deep trouble? Even the Barmer oil asset is facing uncertainty. . .
At the end of the day, there is success.
This is the largest democracy in the world and we are shifting from a PSU model to the private sector.
We have to go through that process.
We believe in governance and run our company through professionals.
Cairn, for instance, acquired a marginal field but now produces 30 per cent of the country's oil.
The Vedanta group has brought the largest foreign direct investment of $30 billion over 10 years.
I am looking forward to the time when there will be the right opportunity. With the Modi government at the helm, I can bring in $100 billion into India.
No matter what has happened in India, people believe in me. I have given dividend to my shareholders and my companies have performed well.
Do you have a specific segment in mind?
We are in the business of natural resources and technology. We are looking at the semiconductor segment to replace part of the $100-billion imports into the country.
Besides, I am looking to expand in oil & gas and increase Cairn India production to 500,000 barrels a day, from 250,000 barrels now.
Aluminium has huge potential too, and I am sure the bauxite problem will be resolved.
Cairn has three issues with the government -- extension of the production-sharing contract, tax, and ad-valorem cess. Do you see an early resolution?
Whatever is our sale, almost 50 per cent goes to the government by way of tax, royalty, etc. In oil, we pay 80 per cent.
The government should look at only one thing -- that the environment is not violated.
Make things simple. The simpler you make the processes, the more are the investments you get.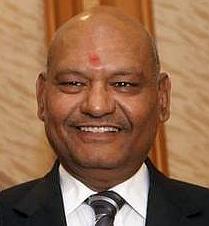 What about Niyamgiri. . . how long will you wait? Are you able to service the debt from operational revenues?
This is a national resource that you cannot leave for hundreds of years.
We have given up and returned it to the government. They have to do whatever is necessary.
I have a strong feeling that the government will come out and resolve it in a short time. I am running my plant on 25 per cent capacity. But we will do this with the consent of people.
One thing is certain -- Vedanta will abide by the rule. For debt servicing, we are taking support from other group companies, not from the operations.
You somewhere said that everyone will die, but you will be the last. . .
I motivate my people.
I have 100,000 people, of whom 20,000 are professionals.
I cannot be here without them. I have asked them to make their products better, reduce cost through better engineering and aim for 25-30 per cent cost reduction.
We are halfway through.
I am looking forward to costs coming down and benefitting the consumer, so that there is more demand.
If we can increase our production 10-15 per cent in all commodities with the same capacity and plants, we can debottleneck.
Where do you see Vedanta five years from now?
I want to play my part in reducing the country's $600-billion imports by myself replacing at least $200 billion of those.
Your daughter recently joined the board, what will be her role going forward?
Every company is built by some individual -- whether it is GE, Shell or Exxon.
I don't foresee my family members running the business as of now. In any case, I am in my 60s and strong enough; so I am going to drive the business for some time.
At the moment, my children are not decision makers.
We have amazing chief executive officers -- there is Tom Albanese at Vedanta; there also is Mike Yeager, Cairn India's chairman (Operations Review Board), who earlier was CEO of BHP Billiton.