'If the tax rate is kept above 20% it will be a very big hit.'
'We value the mass market but will not be offering the cheapest shoe.'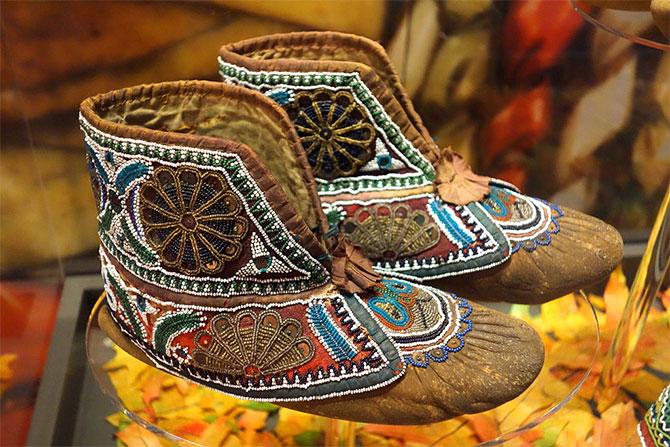 Image: Huron moccasins in the Bata Shoe Museum, Toronto, Ontario, Canada. Photograph: Daderot/Wikimedia Commons
Bata, the Swiss-based 122-years-old footwear major, is still considered synonymous with shoes in India. However, with a growing influx of other sizable entities, it faces tough competition.
Thomas Archer Bata, bottom, left, current global chief marketing officer and fourth generation of the founder family, tells Arnab Dutta how the company is planning to transform. Excerpts:
Your current assessment of Bata's business in India?
We had some internal challenges and macro economic issues such as currency withdrawal have affected us. These are the 'unknowns'; weren't foreseen. We had got nervous as we have very ambitious plans for this market.
We believe, in future, India has to be our number one market, given the size, dynamics and brand equity. So, we will take on whatever is thrown at us.
But, we would love to see a stable environment, where things are done as planned. GST (the coming goods and services tax) could be the right step but it would (have been) nice to have enough warning, in phases – in a way that would allow us to settle in.
The (GST) rate for footware is yet to be announced. But, what is your experience in terms of GST globally?
Unfortunately, they are mostly kneejerk reactions. In many European markets, the taxes have been increased silently. But, at the end, we had to absorb those costs and pass on to the consumers, the ultimate sufferers. So, it is not a welcome surprise.
Here, some of the items, like restaurants, that have been taxed higher are not luxury goods. And, so is footware. If they are taxed higher, it will be like taxing the poor.
The fear that we have is that it would push people towards the black market. If it's (the rate) kept above 20 per cent, it will be a very big hit.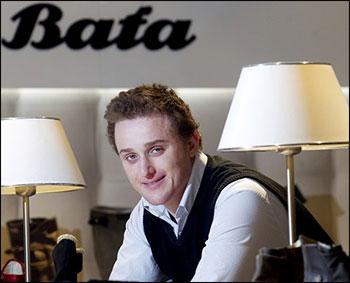 The market in India now accommodates all major brands, unlike earlier. How does Bata plan to fight off competition?
The market is challenging; we are facing strong competition but still growing. Our brand is very strong and if we can understand our consumers, offer them the right products and stay relevant in terms of communicating with them, we will get many new consumers.
The women's market is growing rapidly and so we are focusing on it. India is undergoing a cultural revolution where women are becoming more empowered, in terms of purchasing power.
While most global brands are leveraging the growing presence of e-commerce among consumers, Bata is not that visible. Why?
When you have a lot of fixed assets like stores and factories, you tend to be slower, unfortunately. It's a tough transition to make; it requires courage and vision. Maybe at times we have been timid.
But, now, we are 100 per cent convinced about our way ahead. We would have to be ready in the next three years, with a significant part of our business coming from the digital channel.
We will be primarily encouraging our consumers to shop from physical stores. We can't compete with pure-play online entities.
However, we are going to digitally integrate our stores and offerings, the right way to compete. Our logistics network would have to be very quick, so that anybody can buy any Bata shoe anywhere.
Bata set a target of achieving $1 billion (Rs 6,500 crore) in annual sales by 2020 in India but you have a lot of ground to cover. Are you confident you'll be able to achieve the target?
We are still far away and it's going to be challenging. But, if we execute our plans well and make the right investments, we can still achieve that. Investments will mostly be to increase stores, even in tier-3 and tier-4 cities. We want to be more aggressive in fighting competition and expanding our business.
Is Bata planning to take on local players by coming up with cheaper products?
We value the mass market but will not be offering the cheapest shoe. We will rather try and convince people to pay marginally more, in return for reliability and durability.