"Even last year our monsoons were below normal, then winter rains were below normal, then in March we suddenly had non-seasonal rains... Yet the food prices (inflation) are only falling. This is pretty much magical, right!" says Pranjul Bhandari, Chief India Economist, HSBC.
Being an economist by training Bhandari, who joined HSBC just six months ago from Goldman Sachs, offers a detailed and lucid explanation, behind this magic.
Having worked with the Ministry of Finance and Planning Commission, Bhandari has had a ringside view of the Indian economy, what ails it and what can help lift it from the morass that it is in right now.
"Over the last five years, inflation (measured by Consumer Price Index) was about 9 per cent. Over the last year, this inflation was about 6 per cent. Over the next two years, I think inflation will be 5 per cent, if commodity prices remain low.
Moving from 6 (per cent) to 5 (per cent) was easy because there was no pressure coming from low growth. Now, if growth were to improve then how do you lower it from 5 (per cent) to 4 (per cent)? That is going to be a very big challenge," contends Bhandari, who has also served as a resident fellow at the IMF in Washington after graduating as a Mason Fellow from the Harvard Kennedy School.
Bhandari, who graduated in Economics from St Stephen's College Delhi and later went on to complete her Master's in Economics from University of Cambridge, UK, speaks with Rediff.com about a range of issues ranging from inflation, to how Goods and Services Tax and land acquisition bills can help India hit double digit growth, and her impressions about economic growth in the last one year after Narendra Modi took over as India's Prime Minister.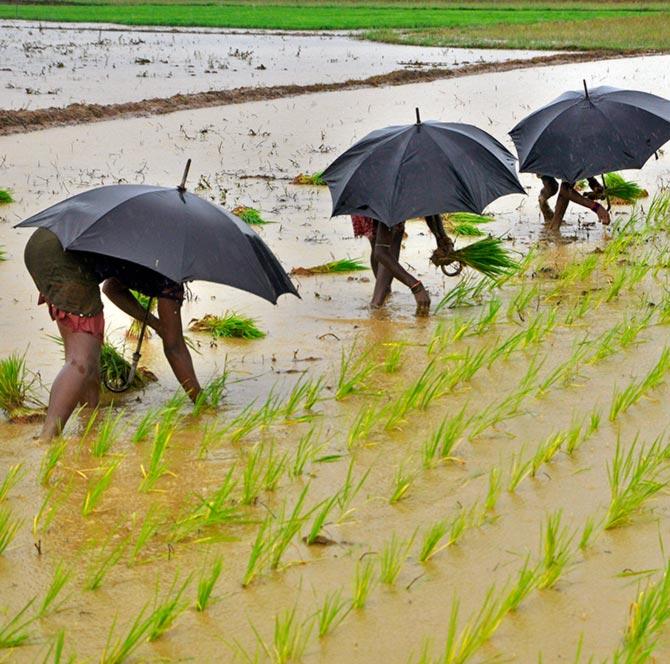 Labourers plant saplings in a paddy field on the outskirts of the eastern Indian city of Bhubaneswar.
Though the share of agriculture in India's GDP has gradually come down over the years, agriculture still supports 67 per cent of Indians. How will a failed or below-normal monsoon affect India's GDP growth?
Rural demand is already under distress since last few years and if we were to have another season of bad rains then rural demand could really hurt (Indian economy). Basically a confluence of factors, are working rather negatively on the rural economy.
We have had slower minimum support price (MSP) growth for essential food articles, which means lesser remuneration for farmers; rural wage growth has been slowing over the last few years. Then international prices of agricultural produce have been falling. Some of the international indices (that reflect the prices of agricultural produce) are down by almost 25 per cent.
These together, are not fetching much for the farmers. If they were to see another period of drought or bad monsoon, that would hurt (the rural Indian economy).
How much would a bad monsoon shave off from India's GDP growth?
I don't want to hurry into a forecast yet. I will tell you why. One, it is very difficult to get a read on rains. Some models which were working in the past, don't work as well now, thanks to environment and climate change.
We have seen that the IMD (Indian Meteorological Department) has not always been accurate in the past; on the other hand Skymet has been somewhat accurate for some years, though that does not mean they will be accurate this time too. So, it's very difficult to tell.
Second, even if we see the monsoon hitting India on time in June, it is possible it could fizzle out in the later three months. On the other hand, it might not arrive on time but might pick up in July.
At this point of time, we are all monsoon-gazing. It's a favourite hobby of Indians at this point of the year.
But, will a below-normal monsoon hit rural demand?
It would. There are two or three problems poor rains cause. One is growth of rural demand and the other is inflation, specifically food inflation. Generally, food inflation spikes up and growth suffers (when monsoons are below-normal).
But this time we might see a differentiated impact of below-normal rains. I am not talking about a full-fledged drought here, which would impact both growth and inflation perversely; but rather I am referring to rains slightly below historic normal.
We could see rural demand hurt because it is already on a weak footing. But the impact of inflation may not be as bad.
Even last year our monsoons were below normal, then winter rains were below normal, then in March we suddenly had non-seasonal rains... Yet the food prices (inflation) are only falling. This is pretty much magical, right!
What's the reason behind this magic?
I would say there are four points. Two cyclical, and two structural, working in confluence to keep inflation low.
Cyclical drivers are those that can do a U-turn quickly. So you cannot depend on them.
Structural factors have more permanency to them. They linger around for longer. You want the fall (in inflation) to be structural. You would want food inflation to come down because of structural factors.
Two developments make me feel that some of the fall in food prices is structural.
While I don't want to oversell this point, I will tell you what I am seeing.
First, nimble supply side management steps are being taken by the government. You are seeing a government which is very quick in releasing (food) stocks, and quick in importing/exporting food items.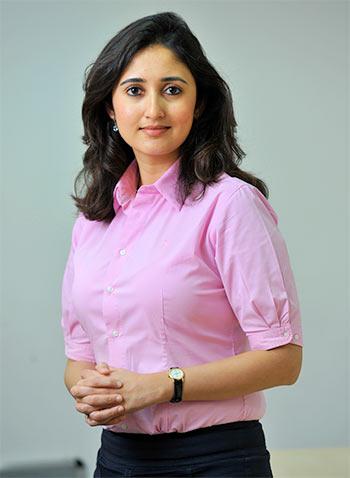 Let me give you an example: there are not too many producers of pulses around the world and Indians are huge consumers.
Whenever rains are bad, prices of pulses shoot up. They have gone up this time as well but not at a rapid rate as we have seen in the past. That's because we have been able to import pulses from Africa more quickly than we did before. The government generally gives licenses to the private sector but this time the government sort of made it free-for-all. And that has helped keep a lid on prices of pulses despite a bad monsoon last year.
The second structural factor -- I might be a bit premature in saying it; let me instead put it as a hypothesis – is that several states are gradually allowing farmers to sell their produce directly to the market rather than going through the middlemen; the middlemen in many cases actually being the government itself and a government, which was not doing a great job because procurement and storage was not done properly leading to lot of losses due to rotting, etc, especially in perishable food items like vegetables and fruits.
Now, you have farmers who try to sell directly to the market on their own. Maharashtra has seen this in the last few months and I am hoping it takes good shape. Karnataka also has an evolved APMC model. Few states are doing well in correcting this structural flaws and I think that's a nice start. I am hoping this trend continues and many more states join in, but we will have to wait and watch.
Moving on to cyclical factors, global commodity prices are very low. So, today if we have to import pulses, we are being able to do so at low prices. The other cyclical reason why food inflation is low is because domestic demand is sluggish.
If you plot a chart of wage growth in India and demand for fruits and vegetables, you will see they move together. When wages are growing fast, people have more money and they buy more expensive food items and you see demand for expensive food items like milk, meat, vegetables going up.
Right now our real wage growth has been falling for the last two to three years along with the demand for expensive food. That may also be helping in keeping prices low despite unfavourable weather events.
Say, in the next two years GDP growth picks up in the country; people start getting better salaries, they start demanding more fruits and vegetables, prices of these items will again start moving up. International prices can turn around overnight; you see what has happened with oil... it has gone up from $55 per barrel to $65 per barrel in just a matter of few days.
So just to recap, as long as global commodity prices remain soft, the impact of slightly lesser than normal rains this year could be a bit differentiated: inflation may not spike as much. The impact will be more on rural demand than on inflation.
Now that you propose that a good confluence of cyclical and structural factors coming together is likely to keep inflation rate benign, do you think the RBI governor will cut interest rate on June 2? Will it be 25 basis points or 50 basis points?
We are expecting 25 basis point (0.25 per cent; one per cent = 100 basis points) rate cut in the RBI monetary policy meeting June 2.
Like earlier two instances, will the RBI governor pre-empt the policy meeting on June 2 and announce a rate cut just before that?
We are expecting the rate cut to happen only in June and I will tell you why. There were good reasons to cut rates before the RBI policy meeting earlier but this time I don't sense that urgency. Also, the rupee has been rather volatile. If the RBI has another week or so to see how the rupee behaves, given that it has sharply depreciated in the preceding weeks, I think the RBI will like to wait until June 2 rather than rush into a decision now. But don't come chasing me if he does cut it before (laughs).
How do you see the crude prices panning out now that they turned around from a$45 levels to $59 levels now? How will another spike impact the Indian economy considering we are big importer of crude?
It seems that the rate of increase in oil prices will not keep accelerating because growth is pretty frail around the world. Look at Europe, Japan, China or even the US. There are signs of economic recovery but growth is not on a firm footing as yet. That could put a lid on price acceleration at some point. That is my general sense.
Having said that if oil prices were to go to $80 per barrel by the end of the year then that could create pain in terms of rising inflation, recovery would suffer because when oil prices shoot up the real purchasing power of people and corporates fall. But, more importantly, it could prove fatal to many economies like Europe, Japan and US.
How much impact will the much-touted land acquisition law and Goods and Services Tax have on the Indian economy? What kind of GDP pep up do you foresee over the next four years if these two crucial bills become laws in the monsoon session of Parliament in August 2015? There are talks about these two laws having the potential to push India's GDP growth in double digits. Do you agree with this case?
Both these legislations are very important. I must say that -- I am tracking the GST bill quite closely -- it has the power to make India into one uniform market. Currently when we drive from one state to another we see these (goods) trucks lined up paying octroi and other state taxes. When GST comes into force these taxes would just go, leading to seamless transactions that would result in huge efficiency and productivity gains.
All that you dream about double digit (GDP) growth is encapsulated in GST. But one must keep in mind that GST comes in many shades.
For instance, one is yet to have any idea about what will be the tax rates, what kind of products will be exempt from GST... you will have to look at these things very carefully because you don't want to get stuck with less than desirable GST.
What could be a 'desirable GST'?
It is very difficult to speculate on that...it's a very complicated exercise between the states and the Union of India.
Ideally?
It's very hard to speculate. There is this huge range that people are talking about... anywhere between 18 to 27 per cent. There are different maths that justify every rate (between 17 to 27 per cent) but what rate will be actually arrived at will be a very complicated formula depending on what the states agree to, what products are included and excluded... so, given these issues it is difficult to comment on one number till there is clarity on these issues.
There would be some amount of negotiations, especially because some states will feel that they are losing revenue and so would ask for higher compensation from the Union government... it is definitely a complicated matrix...
GST is not a controversial bill. I am not worried about the bill becoming a law with Parliament's nod. What I worry about is what kind of agreement will be reached at between state finance ministers and the representatives of the central government. Sometimes, the give and take is minimal, but sometimes it is so high that there is little heft left in the law.
Does the GST alone, if implemented quickly and to the satisfaction of all the players, have the potential to help India cross 10 per cent GDP over the next four years?
With the new GDP series we are already closer to double digit GDP (laughs). But having said that the GST along with several other reforms can improve our chances and take us closer to 10 per cent. But we have a long way to go.
But more than GDP, when one focuses on GDP per capita, we realise how much catching up India has got to do. We need to not just get to double digit growth, but also sustain it for several years. And for that, many important reforms need to happen.
Like...
GST is one of my favourite for now.
The second, one which a lot of people fail to understand is the importance of a low-inflation economy. This is sort of more theoretical but a low-inflation economy can be very favourable for growth through stability, lower rates, higher investments, consumption and so on. To the extent the government is supportive of the RBI to target 4 per cent inflation rate, which the RBI has mandated for itself from 2018 onwards, will play a major role in improving GDP as well as per capita GDP.
Here, I would say food reforms are very important. Over the last five years, inflation (Consumer Price Inflation) was about 9 per cent. Over the last year, this inflation was about 6 per cent. It has come off. Over the next two years, I think inflation will be 5 per cent, if commodity prices remain low.
But the real challenge will be how to go from 5 per cent to 4 per cent (RBI's inflation target for March 2018) in the next three years at a time when you actually expect GDP growth to start rising.
Whenever GDP growth starts to move up, it puts an upward pressure on inflation. 6 to 5 was easy because there was no pressure coming from low growth. Now, if growth were to improve then how do you lower it from 5 to 4?
That is going to be a very big challenge. I have done some analyses on this issue and believe that this can happen only if food reforms happen. If we can engage in structural reforms in food production and distribution, this could be done.
Like reforms in the Food Corporation of India -- there is already a blueprint out there -- by letting the private sector participate in food distribution and storage; if these were to be implemented it could play wonders.
The other is reforms of the APMC Act, allowing the farmers to sell directly to the consumers...
But wouldn't these reforms upset a lot of middlemen and rent seekers? Are these politically possible?
Every reform has some rent seeker who will be bumped off. No reforms would be easy. This is what happens globally and hence reforms take time to take shape on ground. But the gains are far more than the losses.
The third reform that I feel passionate about is... each time you see bad time for rural India -- like what is happening right now -- the traditional responses of the government is to increase MSP. MSP distorts prices of various food items. MSP keeps some food prices artificially high when they are not meant to be high and vice versa.
Rather than using MSP as a tool to distribute money to farmers in rural India who are under distress, give them an income transfer, which does not distort prices of food items. For example, do something through crop insurance. Or give them a lump sum, maybe through NREGA... but don't distort market prices is what I am coming at. The way you react to an adversity in itself would be a big reform push to help India become a low-inflation economy.
The fourth reform measure would be the leasing and titling of land. Majority of the farmers in India have very small landholdings; so small that you can't do mechanised agriculture. If farmers could put their pieces of land together and start using tractors over acres it would help boost agricultural production. In India land titling is so poor that farmers would definitely feel insecure to part with their land and one cannot amalgamate these land parcels. This process, while very desirable, is equally difficult.
The collectors grapple with moth-eaten, dusty files, which has the records of an entire village's land holdings. How does one get this process of amalgamating land holdings would be a big challenge.
Your impressions about how the Indian economy has fared in the first year of Narendra Modi led National Democratic Alliance government at the Centre?
We have definitely made progress in some areas, but there is just a lot to be done. Some people are upset as to why we can't move faster than we are already moving.
I think some people had unrealistic expectations from Mr Modi.
I carefully track stalled investment projects in India. These were investment projects, which started but somewhere along the way they could not progress. In doing so, these projects locked resources on the ground and in the banks leading to bad loans. Those are at the heart of most of the problems Indian economy is facing. This is something the government is realising now and is putting lot of efforts in restarting these stalled projects.
Now, about 50 per cent of the projects are stalled due to policy issues, commonly known as 'policy paralysis'. The rest 50 per cent projects are stalled because of macro-economic issues.
The stock of stalled projects has been falling; right now they are about 6.8 per cent of the GDP. Same time last year, they were 8.5 per cent of GDP. This is a big difference.
So, progress is being made. You can see it in numbers. But this progress is slow. We could have moved from 8.4 per cent to 4 per cent, right?
We have had some successes like the coal and mines and minerals bills, which will lead to more coal coming out of the ground and leading to more electricity-generation, the fruits of which shall be visible over the next couple of quarters.
But a lot more needs to be done in food and subsidy reform. We have a great window of opportunity with low oil prices.
We have a ready digital platform in AADHAR, mobile telephony and banks accounts from Jan Dhan Yojana ... all this infrastructure could be used to reform the subsidy regime.
The government must start realising the potential of this strong infrastructure and act on it without further delay.
Is land acquisition solely responsible for a lot of these stalled projects?
For this you need to see why these projects were stalled in the first place. Land acquisition is an important part of it.
Now, this is very interesting. I am getting a little academic here but if you look at stalled projects due to land issues in terms of rupee value then the number comes to about 30 per cent of all stalled projects. If you look at it in terms of volume (number of projects stalled) then you will come at the RTI figure of 8 per cent (A recent RTI report revealed that only 8 per cent of the total projects stalled were due to the issue of land acquisition).
What this shows is that land acquisition is not really a problem for every investor but it is definitely a problem for some of the big-ticket investments.
Image: Pranjul Bhandari, Chief India Economist, HSBC