'There will only be an institutional solution between the board and the founders to take Infosys forward.'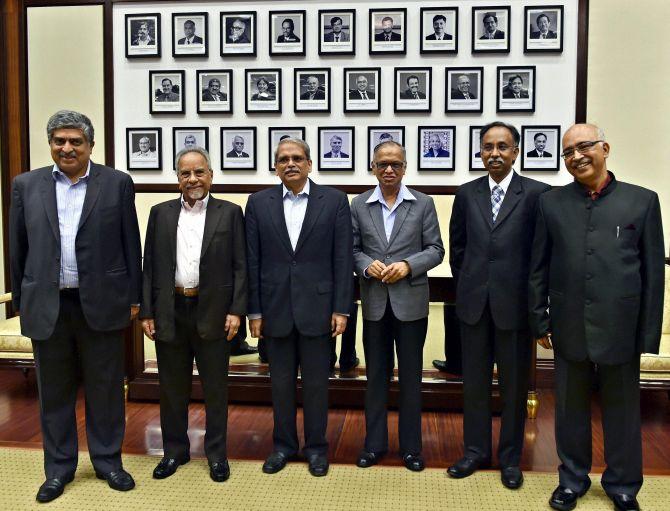 As the debate continues on who is right and who is wrong in the Infosys saga, Manish Sabharwal, chairman and co-founder, Teamlease Service, analyses each player's role with Rediff.com's Shobha Warrier.
What lessons can India Inc learn from the Infosys saga?
It's as Leo Tolstoy says in Anna Karenina, 'Happy families are all alike and every unhappy family is unhappy in its own way.'
Founders can have three roles -- the CEO, director on the board and shareholder.
The shareholder mainly looks at market cap, the director looks at the institution and the CEO is only responsible for performance.
I think you can learn a few lessons here. One is the CEO over-promising.
If Vishal Sikka was on track to achieve the $20 billion he had promised as his target, I don't think this situation would have happened.
An executive would be judged purely by the performance of the company. Vishal Sikka had promised to get $20 billion revenue for the company.
So, he shouldn't be surprised for being held accountable for his own target.
The lesson is: Executives must under-promise and over-deliver!
The lesson for the founders is: Don't jump from being an executive to a shareholder -- it's too big a leap.
It's better to go from an executive to the director on the board to being a shareholder.
They should stay on the board for at least 10 years to stabilise the institution and then become solely a shareholder.
I think Infosys would have benefitted had it transitioned through the board, and not this direct jump from executive to shareholder.
None of the founders stayed on on the board.
There was no voice of capital on the board. It is very important to have this voice in the day-to-day running of the company.
Narayana Murthy commented that the work culture among the executives had deteriorated and they lacked simplicity, austerity and philanthropy which were the values the company always believed in.
Don't you think they should have looked at these values in a person before hiring him as the CEO?
They had certain values in mind and they found that there was this mismatch of values -- like this American CEO who doesn't care about certain values which Infosys had believed in.
I don't think one is right or one is wrong, it's just two different values they follow.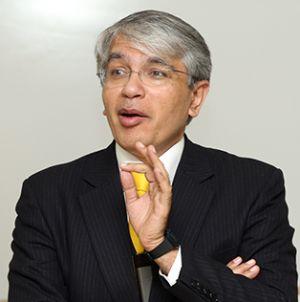 When you hire a CEO, there has to be a match of zehaniyat (mentality). Zehan in Urdu represents heart and soul.
So, you have to look for a zehaniyat match and not just a neeyat (intention).
You don't just do a technocratic evaluation of the CEO, you also look at the values he believes in.
But the fact is if he (Sikka) had been on track of the $20 billion revenue he had promised, this drama would not have unfolded.
Fundamentally, executives are responsible for the performance of the company.
A CEO is responsible for factors even beyond his control.
So, money speaks ultimately?
See, you expect performance, you look for results from the CEO.
What we saw was a breakdown of trust and not integrity, breakdown of trust between the promise and delivery.
One of the criticisms against Vishal Sikka was the steep rise in his salary and that of many senior executives...
In the American system, in Vishal Sikka's world, it is acceptable.
That's why I said there was a mismatch of values -- that of the Indian system and the American system.
The board supported Sikka and not Narayana Murthy.
In fact, it blamed Murthy for the current mess.
Who is to be finally blamed for this situation?
I would say this is a saga where there are only victims and there are no villains.
It is natural for them to blame each other.
As the executive, Sikka was expected to deliver the promises he had made.
The founders should have made the transition through the board rather than jumping straight to being shareholders.
There was no voice of capital on the board. I don't think that is a good definition of a board.
If Narayana Murthy was on the board, he could have been effectively heard and he needn't have had to make all his statements public.
When you are not on the board, you are outside the company.
This is a good lesson for all the founders on how to do the transition and for executives on how to manage performance expectation.
The language used by both Sikka and Narayana Murthy were quite strong...
Everybody is very angry now. Things will calm down soon.
It is important for both of them to tone down the rhetoric and move on.
Do you think this is a lesson for all companies to groom somebody from inside who understands company values rather than hire an outsider?
I think this is a lesson for all founders to do the right transition.
This is also a lesson for all CEOs who take over from the founders on managing expectations.
I don't think somebody from internal is better than external.
There has to be a good track record of internal and external success and failure.
When a company is going through a transition, an outsider can judge things better.
If you look at TCS, the transition has been much better.
The market cap of TCS is Infosys plus Wipro plus HCL plus Tech Mahindra.
Having some sort of a solution that provides stability and a forward looking leadership are important now.
There will not be a messiah; there will only be an institutional solution between the board and the founders to take Infosys forward.
IMAGE: Infosys Co-founders: From left Nandan Nilekani, N S Raghavan, Kris Gopalakrishna, N R Narayana Murthy, S D Shibulal and K Dinesh at the Infosys headquarters. Photograph: Shailendra Bhojak/PTI