'Information highways are getting stronger and being strengthened.'
'Occasionally, accidents could occur. But do you stop constructing highways because two motor cars collide?'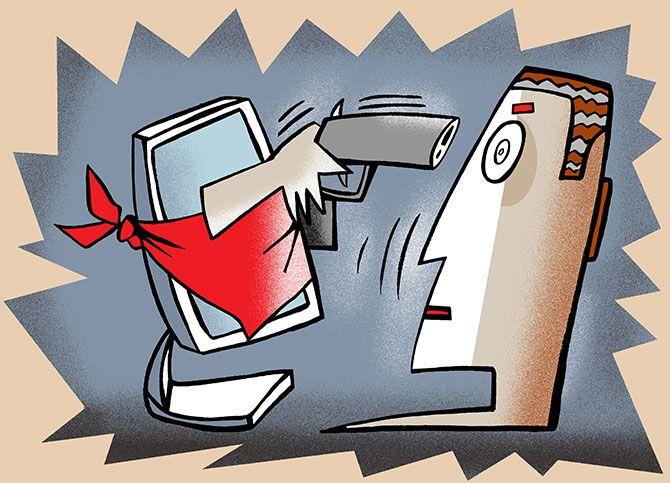 Illustration: Uttam Ghosh/Rediff.com
"India has the biggest footprint of Facebook," Information Technology Minister Ravi Shankar Prasad tells Kiran Rathee.
There have been reports of cyber theft and data loss on a regular basis. How secure is India's cyber space?
First of all, India's IT system is safe and secure. I will not say that attempts are not made, we had a ransomware attack recently (WannaCry), but we took measures in advance. So the impact was minimal.
My take on this whole issue is very straight and practical. We are creating information highways, and the biggest success of India's information highways is that we are touching the lives of common people.
The latest is the Umang app. In a pilot project over couple of weeks, we have managed to put 112 services on the app with downloads of 1 million.
Secondly, India has the biggest download of apps in the world.
India has the biggest footprint of Facebook and all the new form of technologies like Twitter or LinkedIn are working in India.
Information highways are getting stronger and being strengthened. Occasionally, accidents could occur. But do you stop constructing highways because two motor cars collide?
The answer is no. You must tighten your seat belt, observe the do-not-drink-and-drive rule, maintain the speed limit....
Similar precautions need to be taken in the case of cyber national highways as well.
As India moves toward becoming one of the largest digital economies of the world, do you think there is enough infrastructure in place to take care of such huge Iinternet traffic?
Let me put it this way. We are improving our cyber ecosystem in a very effective manner.
Our CERT-In (India's Computer Emergency Response Team) is very effective, it has international cooperation and soon a separate CERT-In for energy and finance is contemplated.
We have Indian solutions for cyber security measures and the most important is creating human resources for cyber security.
You need to have cyber auditors for all banks. We have told all the departments to have a designated officer for cyber security.
Thirdly, we have undertaken a massive cyber training programme -- for judges, for policemen. To create human resources, we have told NIELIT (the National Institute of Electronics and Information Technology) to start short-term courses for cyber security.
We are giving Phd grants for cyber security.
How many jobs do you see cyber security creating?
Unlimited number of jobs will be created. India is going to become a big centre for small cyber security products.
Indian start-ups are going to create low-cost cyber security products which can address concerns of smaller and mid-sized firms.
On the overall job position, let me clarify that in Indian IT sector, about 40 lakh (4 million) people work directly, of which one-third are women and about 1.30 lakh (130,000) are indirect jobs.
About 10 lakh (1 million) people are working in common service centres alone.
About 3 lakh (300,000) direct and indirect jobs have been created in electronics manufacturing.
There are BPOs in smaller towns. A new digital ecosystem at the ground is being created.
Next, there is the big start-up movement in India where toppers from top institutes are starting new companies and becoming job creators instead of job seekers.
Therefore, if you talk about the digital economy, my take is very simple: When India becomes a $1 trillion digital economy, it will need between 50 to 70 lakh (5 million to 7 million) new jobs in the coming 5 to 7 years.
The US government has tightened visa norms making it difficult for IT professionals to work at client sites. Have you, as the IT minister, raised this issue with the US government?
The engagement is going at various levels. Finance Minister Arun Jaitley has talked, External Affairs Minister Sushma Swaraj conveyed her concerns and so has Commerce Minister Suresh Prabhu.
I have also spoken to people. I only want to tell you one thing: That when Indian companies go to America or any other country, they don't steal jobs -- in fact they create jobs.
Indian companies have given jobs to 4 lakh (400,000) people in America and they will create more jobs as every job can't be given to outsiders.
But remember one thing: Indian IT companies have added value to a host of American multi-national companies and made them competitive.
Indian technology back home has also helped make American companies technologically competitive. So, this has to be appreciated.
With Aadhaar being linked with most services, some people are saying it infringes the right to privacy and also claim that India is creating a surveillance State?
India is a democratic country government by rule of law. We respect privacy. We will not undertake any surveillance.
But privacy cannot become the shield of terrorists and the corrupt.
If Aadhaar is linked with the PAN card, what is the problem with that? It unearths the many accounts linked under one person, who can no longer deny holding them.
Recently, we cancelled the registration of 2.24 lakh (224,000) companies which were fly-by-night operators. There are many such instances of money laundering.
Are the poor people, who are getting the benefit of direct benefit transfer in their bank account, happy or not? Poor people are happy.
Aadhaar is backed by a robust law passed by Parliament with due regard to privacy.
Let us celebrate the innovation of India as Aadhaar is a low-cost technology costing just $1 each.
Today the world is hailing Aadhaar as a technology milestone. To address the concerns of the poor, I have made it very clear that nobody will be denied rations in the absence of Aadhaar.
If this happens, state governments must take action.
The US Federal Communications Commission has decided to revoke net neutrality rules. What is the Indian government's view?
Normally, it is a matter for the communications ministry, but speaking for myself, in India we need not necessarily be governed by what other countries do.
Our stand from day one has been very clear: Digital India will lead to digital inclusion.
Access to the Internet is not negotiable and availability must be without discrimination.
What is the update on Apple's manufacturing plans in India?
Talks are on with various departments from commerce to finance to IT. It is part of the whole process of discussion, but I would like to very gently remind Apple that India is a huge mobile market.
Indians loves Apple and there is Indian human resource, Indian technology, all available to them to tap and manufacture it here.
Apple coming to India will be a win-win for both.
When can we expect standards for mobile phones to be announced?
It is going on... I have asked them to finalise the security aspect of mobile manufacturing standards.
That is work in progress, but we are very particular, there must be security standards availability in mobile phones.