'India is the number one IT destination in the world as we have the largest number of IT professionals in the world.'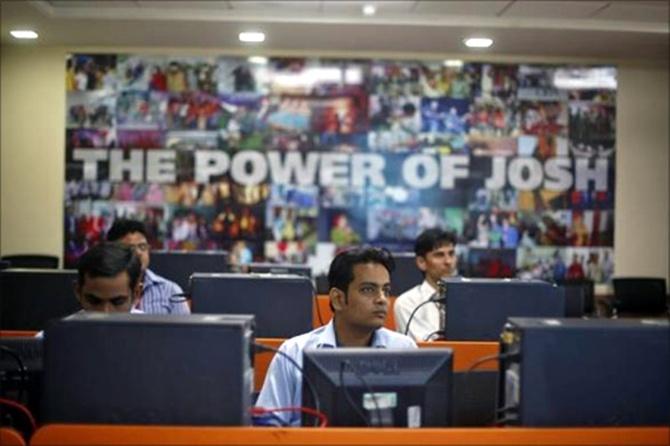 IMAGE: A scene from an Indian start-up company. Photograph: Reuters
Infosys Co-founder, Senapathy Gopalakrishnan, who was the company's CEO and MD from 2007 to 2011 and Infy's vice-chairman from 2011 to 2014, is now co-founder at Axilor Ventures, an accelerator that helps early-stage start-ups succeed.
'Kris' Gopalakrishnan spoke with Rediff.com's Shobha Warrier in Chennai and later with Prasanna D Zore in Mumbai at the launch of itihaasa, about job creation, life and career lessons.
itihaasa Research and Digital's mobile app itihaasa, chronicles the history of the Indian information technology industry with the help of interviews (videos, photographs, timelines, etc) of 44 stalwarts of the IT industry to 'inspire, give ideas to the current generation of entrepreneurs.'
The first of a two-part interview:
Was it because you were part of the IT revolution in India that you decided to chronicle the history of Indian IT industry through itihaasa?
Yes. It has been a great experience to look at the industry growing from nothing to what it is today, become a globally competitive world-class industry and create 4 million jobs.
I felt it would be appropriate to document its history. I also wanted to do it not from my perspective alone, but from the perspective of all the people who have made it what it is.
I was fortunate that everybody I reached out to, agreed to participate and give me time. For the one hour of recording, they had to spend at least an additional 2 hours; one was for discussion and based on the discussion, we created the questions and then recorded answers to those questions.
Is it your tribute to the industry, or is it for the future generation that you did this?
It is definitely for the future generation. Here is the story of several people coming together, mostly first generation entrepreneurs to create a world-class industry. So it is a document for the future generation in the voice of the people who made it happen.
How will itihaasa help India's GenNext?
Being a mobile app, I strongly believe that the youth will take to it.
Bandwidth in India too is improving and now with 4G, watching videos is not that difficult; probably it (downloading videos) may take more time, but it does play very well.
We have run it on iPhones and Android devices and the app runs very well. In fact, on mobiles, the user interface is better and intuitive.
The whole idea of releasing the history of the Indian IT industry on an app is that the India's youth is very comfortable with the concept of an app.
That's the reason why we preferred releasing an app for the purpose. Yes, there may be little delays in loading of videos, but the experience will be worth your time.
What will itihaasa give to the youth?
Itihaasa will give them the experience of all these people who have created a world-class, $150 billion industry, which is, today employing almost four million people in India.
itihaasa will give the next generation an understanding of what the industry stalwarts have to do to reach this stage.
Hopefully, itihaasa will inspire, give ideas to the current generation of entrepreneurs.
After this, do you feel like documenting other industries also?
No. no. What I have done is for the industry I am part of. But the platform that we have created can be used for documenting the history of other industries, programmes and projects. In fact, some people have approached us too.
What I have done is, we have created an organisation called Itihaasa Research and it will look at sustaining this project as well as taking other projects too.
As you journeyed through this industry from the country's first computer in 1955, did you come across any startling revelations, which you were not aware of?
Though I knew the involvement of people like Homi Bhabha, Vikram Sarabhai and the role played by them, we were able to understand more from the perspective of people like Professor Sadagopan, Professor Pathak, Professor Raja Ramanna, etc.
It was not a revelation or surprise, but the details and their perspective are not known to many people including myself. We were able to bring in the stories from different angles and different perspectives which I think is very important.
That's why the whole work is richer and more satisfying.
How much is the knowledge of history important for the industry and a person who is a part of?
It is very, very important because you get lessons of how something was done and the thought process behind it, and why something happened. It is always interesting to go back after the story has unfolded. A lot of such examples are there in itihaasa.
For example, the formation of TCS, Infosys, the first STP, the reasons why IIT Madras got the largest main frame computer at that time even though it had a very small computer science department. It was very interesting to listen to all these stories.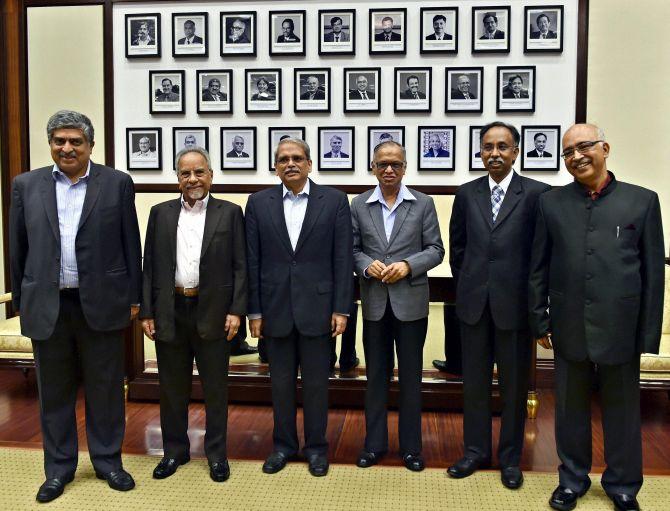 IMAGE: Infosys Founders, from left Nandan Nilekani, N S Raghavan, Kris Gopalakrishnan, N R Narayanmurthy, S D Shibulal and K Dinesh. Photograph: Shailendra Bhojak/PTI
When you became entrepreneurs, there was not much infrastructure in India. Do you feel today's entrepreneurs are lucky in that way?
Every generation faces unique challenges. In fact, competition is severe for today's entrepreneurs; competition is also global. They have access to funds but funds are not easy as competition is global. The challenges are different.
Being an entrepreneur is not easy. You cannot be an entrepreneur without taking any risk. Even today, 7 to 8 out of 10 start ups fail.
In those days, many companies that started together did not do very well and shut down. Challenges are different, but there are always challenges for entrepreneurs.
Do you feel today's entrepreneurs are more risk-taking as there is more acceptance from family and society today?
Yes, we are a lot more accepting culturally as entrepreneurship as a profession.
How much do the government's initiatives like Start up India, Make in India help improve the infrastructure and give confidence to the new age entrepreneurs?
If someone at the higher level, say the prime minister himself saying that entrepreneurship is okay and you should look at it as a career option, it makes a lot of difference to the people looking to be entrepreneurs.
They feel the nation will be supportive of their efforts. That's a cultural change and also a change in the general perception.
What is important is the need to focus on policies that help in doing business and also on the regulatory frame works.
Then because the government itself is investing, funding has also become easier either in creating infrastructure for them or directly funding them.
So there are many levels at which the initiatives are helpful to create the right environment for start-ups.
How much more has India to change so that more and more entrepreneurs are born and innovations happen?
It has to change in many areas. Ease of doing business is an ongoing change programme.
The government has to continuously see that we create the right environment for new business creation.
We have to look at our laws and see whether they need modifications. For example, the passing of the GST Bill which will help in the ease of doing business.
Of course, the implementation has to be in such a way that it shouldn't add to the complexity of doing business.
As expected, it should reduce the complexity in doing business. This has to be an ongoing process.
Similarly, on the innovation side, we have to look at the research that is going on in our academic institutions and see which of those can be converted into new businesses.
Today, that translation of research into business into useful products is not happening much. There are instances where it has happened but we need lot more of that to happen.
IMAGE: The Infosys campus in Bengaluru
Is that why we do not have that many world-class IT products coming from India?
If you look at many of the product companies of the world, they have their R&D situated in India. It is not that we are not capable.
There are not many products coming out of India because the market is not in India. You need to understand the market to create products.
Once our market grows, we will see some products coming out of India.
The business model for a product company is very different from a services company. It's lot more risky and requires higher investment, it requires longer lead time and the probability of failure is higher.
So, we were not in a position to get into this area before because we were too far away from the market and needed huge funding.
But now you are seeing products for the Indian market; yes, they are coming slightly differently, being delivered probably as services and integrating that with the business.
When will the image of Indian IT services person to that of an Innovator happen?
We have so far done value addition, product management, etc as services companies. And you need to respect the services companies.
We can be proud of the fact that out of the top IT services companies in the world, five are Indian companies.
We do have great product companies also. In the banking sector, the top three product companies are actually of Indian origin.
For the last several years, we have been hearing that India's dominance in the IT service sector will diminish with China and the Philippines catching up but it did not happen. Do you think it can happen in the years to come? No. The size, scale, experience, financial strength, market capitalisation and think-tank will continue to benefit the Indian IT industry.
The Philippines has done well in BPO while China has done well in other aspects of software like gaming, mobile telephony hardware space, etc.
So, different countries have different competitive advantage and that's where they will leverage on.
You mean, India's dominance in the services sector will continue?
Yes. Many of the multinationals have their own operations in India. I have no doubt, India as a destination for software development and IT back offices, will continue.
India is the number one IT destination in the world as we have the largest number of IT professionals in the world, and this dominance will continue.
Has it anything to do with the ability of Indians or was it because we could give the right education at the right time?
The right education at the right time and also at the scale at which it was needed. We also invested in educating youngsters in computer science early on.
It was in 1977 that Apple launched the first personal computer. In 1981 IBM introduced the first personal computer. We were there when the first wave of entrepreneurship happened in the late 70s and the early 80s.
When you look at smaller countries, they may be producing 10,000 or at the most 20,000 engineers while we have 1 million engineers passing out every year.
This kind of quality and manpower is not available anywhere else even if only 25% are directly employable but many others can be trained and employed.
Where do you see India in the global IT map in the next decade or so?
We will continue to dominate in Services.
In the case of product development, you can see application products coming out of India in logistics, airport management, cargo management, payment systems, financial dealings, etc you will see some of the Indian companies competing globally and doing well.
I am very optimistic about the future of the sector.
Don't miss Kris Gopalakrishnan's advice for entrepreneurs! Coming soon!