'Every educational institution should have incubating centres so that students will get exposed to entrepreneurship early.'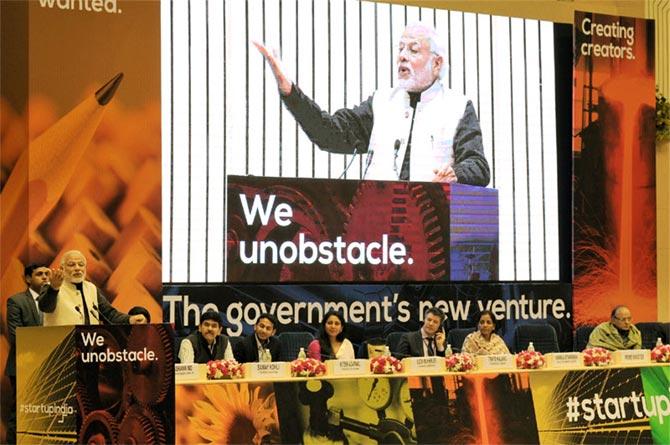 IMAGE: Prime Minister Narendra Modi at the launch of the Start-Up India, Stand-Up India initiative in New Delhi. Photograph: Press Information Bureau
One of the leading architects of India's IT industry, Jakkampudi Adiseshaiah 'J A' Chowdary was the director of the country's s first Software Technology Park in Bengaluru. Later, he became the founding director of the STPI in Hyderabad and Chennai as well.

Chowdary was recently appointed IT advisor to the Andhra Pradesh government to advise the government on innovation, start-up activities, investments and generating employment.
JA tells Shobha Warrier/Rediff.com how the start-up India initiative will revolutionise the start-up scene.
You have been associated with IT in India for the last 30 years. What was it like in the early days?
When India began its IT legacy, I was the founding president of the Software Technology Park, STPI. in Bengaluru, the first one set up in India in 1988-1989.

Those days, most Indian companies were doing only body shopping because we didn't have proper infrastructure or high pitch links.

Even for making a long distance telephone call, one had to wait. So, it was a costly affair for companies to do any meaningful operation.

That is why most companies were hiring people from all the top schools and recruiting them in the United States.
It is against this backdrop that the Government of India set up the first STPI in Bangalore. They wanted to see if we could get the work done in India instead of sending people abroad.

Unless we had the infrastructure in India, we knew we would not be able to bring developmental activities to India.
Why did you decide to come back to India?
I knew IT was going to take off in India and wanted to be a part of it. Those days, it used to take 6 months to one year to import a computer to India.

We thought if we created an infrastructure, we could bring about change. The country's first single window mechanism was at the Software Technology Park in Bengaluru.

During the license Raj era, nobody expected this to function. Even (Infosys co-founder N R ) Narayana Murthy was doubtful about it. Nobody had confidence in the government.
Who were the people from the government who implemented this idea?
Seshagiri, the additional secretary in the Department of Electronics, was the man behind the STPI, but it was effectively implemented by N Vittal when he became the secretary, DoE.
I regard N Vittal as the real father of India's software industry. He removed all the obstacles for the software export industry, the domestic industry, and created offshore facilities and satellite locations.
When we set up the satellite up-station, the government was monitoring every digit that was being communicated.

So we used to have police officers from the intelligence department at the STPI to go through each and every email and messages passed through the satellite station. It was Vittal who removed this in one stroke.
VSNL provided oversees communication and charged more than Rs 40 lakh (Rs 4 million) for a 64kbps line.

How could any domestic company start meaningful offshore development in the country when this was the cost?

Vittal said, 'Why not import the up-station and provide data communication to enable the software industry to grow?'
Soon STPI started providing an up-station to export software abroad. That was a major breakthrough.
Were software companies satisfied with the kind of facilities India provided then?
Many NRIs were so disillusioned in those days and said they would not be able to do business in such an environment and went back.

The atmosphere was not conducive to do any meaningful business in the country then.
I stayed back because I was working with the government and I knew that STPI was going to reshape India's economy. I wanted to be a part of it. My belief ultimately came through.
Texas Instruments was the first American offshore development company that started operations at STPI using the satellite link in a cost effective way.
India started off by providing software services and India was looked upon as a service destination for a long time. Was it because of lack of infrastructure that most companies were doing only services or was it just a perception?
Yes, though we had talent, we were mainly providing only services or low-end technology jobs. It was not because of lack of infrastructure. Nobody believed that complex software could be created here.
Texas Instruments built a very complex chip using the satellite up-station, which was a big boost to our image.

After that, many multinational companies like Hewlett Packard started looking at India and came to Bengaluru.
It was because of the STPI that Bengaluru became the 'Silicon Valley of India.' Slowly, many technology companies started establishing their research and development centres in Bangalore.

With that, even the Indian services companies started getting orders to develop products in India. Soon they realised that doing business in India saved time and was cost effective too.
The word entrepreneurship or even start ups was unheard of in those days. When did the ecosystem change?
Yes, there were no start-ups in those days. There were entrepreneurs like Infosys, Satyam Computers, but they were all in services business.
When I came to Hyderabad in 1990, there was no Internet facility in the state! The city did not have any international airport, good engineering colleges or business schools.
After I went there, we took the building Maitreevanam for incubating companies. We provided high speed Internet, uninterrupted power, single window clearance and telecom facilities.

All the 16 incubates we supported became successful. In fact, India's first tech-based BPO was incubated there.
That was the beginning of the tech story in Hyderabad.
Before 2000 dawned, most of the start-ups were working on solving the Y2K problem and made quite a lot of money. There were not many product companies during that period.
Was it after the TiE (The Indus Entrepreneurs) in Hyderabad that the start-up scene got a boost there?
Yes, with the arrival of the TiE chapter in Hyderabad in 2003, entrepreneurship got a big boost.

TiE tied up with Indian School of Business and organised TiE-ISB Connect in 2005 at the ISB campus where we created a platform for young entrepreneurs to come up with ideas.

We organised competitions for youngsters and then selected interesting ideas, which were funded by us.
It was a platform where budding entrepreneurs networked with investors and venture capitalists. The start-up ecosystem like incubation, networking, mentoring and angel funding, in Hyderabad developed with TiE. After that, Hyderabad has not looked back.
Then, we created a forum called Hyderabad for Innovation where we connected students of IIIT, ISB, BITS Pilani to successful entrepreneurs.

It was mainly to encourage college students to come up with new ideas as entrepreneurs are born in college campuses.
With this, all the major companies from Microsoft, Google and Qualcomm set up their R&D centres in Hyderabad.
How do you look at India's map in the start-up scene?
Bangalore leads the start-up scene as activities started from the STPI. It is followed by Hyderabad, Chennai and Kerala.

The start-up scene in India is dominated by the South, except in cities like Mumbai, Pune and Gurgaon.
Do you feel the Start-Up India Initiative will improve the start-up scene in India? Will this lead to a start-up revolution?
It is a great initiative, which will definitely help youngsters getting access to capital. Indians have shown the world that great products are built here.

With the availability of funds and incubating centres in colleges, there will be a sea change in the start-up scene. I am quite optimistic about this.
We need to urgently improve and revolutionise our education system. Unless we do that, we will not get the desired results.

We need out-of-the-box thinkers and students, who are ready to create new products. We have a long way to go as far as revolutionising our education system is concerned.
We have to follow the medical college pattern of a college and a hospital in the same campus. Similarly, every educational institution should have incubating centres so that students will get exposed to entrepreneurship quite early.
That is why universities like Stanford, Berkeley could create great companies from their campuses. The chief minister of Andhra Pradesh, Chandrababu Naidu, agrees that every college and university here should have an incubation centre.
How much has the attitude of society changed over the years about youngsters turning entrepreneurs?
It was very difficult for a youngster from a middle-class family to join a start-up or start a one till recently.
Taking risks was not appreciated. Failure was not accepted either, but now you see a huge attitudinal change towards start-ups.