'People are trying to save money because of uncertainty and insecurity.'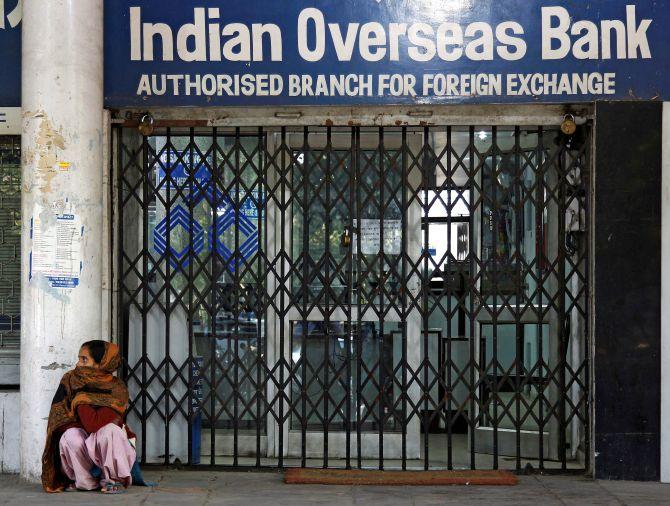 IMAGE: A woman waits for the bank to open early in the morning in Chandigarh.
Serpentine queues have been visible outside banks ever since Prime Minister Narendra Modi demonetised Rs 500 and Rs 1000 notes.
Photograph: Ajay Verma/Reuters
The demonetisation drive, in its second week, has left the retail sector bleeding.
Shopkeepers are finding it increasingly difficult to sustain business as Indians are currently more concerned with preserving their cash reserves and not spending money on anything but essentials.
Viren Shah, president, Federation of Retail Traders Welfare Association, explains to Rediff.com's Syed Firdaus Ashraf how demonestisation has hurt the retail sector.
How do you rate demonetisation?
This is a very good move. This move could not have been taken by anyone ordinary, but with someone who is daring, who knows what is going on and what needs to be done about it.
The obvious reason for the move is to remove black money, counterfeit currency and terrorism in the country.
What kind of problems do traders face because of demonetisation?
There are problems on the ground. Thorough homework was not done and the ground reality is different.
Here the government has not done a good job.
The government knew beforehand there would be queues outside banks and they should have made pre-arrangements like tents, water supply and aid to senior citizens.
It is sad that people have died standing in queues for long hours.
It is not good for the country. The government was not ready on the ground and that's not a good sign.
What about business? How has it suffered?
Business sunk by 90 per cent a day after Modi announced the move.
A week later, it was down by 70 per cent and today, business is down by 50 per cent.
The situation in the urban areas isn't too bad because of the use of debit and credit cards.
However, they too have suffered as people are refusing to spend money.
Business is not at all good after demonetisation.
Do you think people are scared to spend money?
They are scared and panicking. They are spending on essential goods only.
People are trying to save money because of uncertainty and insecurity.
They don't know what the government's next move will be.
Every day a fear is present that you will be sent an income tax notice.
Even innocent people are confused on how to convert their old currency.
Their priority right now is not shopping, but how to convert old notes at banks, and the banks just can't cope with this demand.
Within a few hours, the currency at the banks is over and therefore people are continually standing outside banks.
Today (November 23), I saw fewer queues outside banks.
They have withdrawn the facility to exchange notes and therefore there are no long queues.
But there are lines outside ATMs. Most of the times there is no money in the machines.
The situation is not that great.
'Today, even if people are going with cash, small shopkeepers don't have change to give them.'
Do you think traders will make a change in the mode of payments via cheque or plastic money in the future?
It cannot change overnight. It takes time.
People do not have the habit of spending by credit card and they normally pay by cash.
In our business, earlier 70 per cent of payments were made by card. Today that has gone up to 80 per cent.
This is possible in medium and big stores, but not in small stores. They feel helpless because they only deal in cash.
Today, even if people are going with cash, small shopkeepers don't have change to give them.
The morale of people is down and the priority is not shopping, but to convert currency.
Do you think Indians will accept plastic money?
It will definitely change, but this will not happen overnight. It will come only after the government announces some tax benefits.
That is the reason we met Maharashtra Chief Minister Devendra Fadnavis and the alliance party (Shiv Sena).
The government will have to boost the morale of the people and announce some kind of incentives.
People are ready to cooperate with the government and they are not shouting and complaining.
But that does not mean the government must keep quiet. They have to announce some kind of tax incentives and boost the morale of the people of the country.
Things will change, but it will change slowly. It will be a painful process because (right now) you see weddings are low-key affairs.
People are not spending in restaurants and fancy hotels. People used to shop goods worth Rs 50,000 earlier, but now they do not even spend Rs 5,000 on shopping.
The atmosphere (mood) is not to shop around, but to save money. People are worried and disturbed as to what will happen in the future.
What will be the short term and long term effect of demonetisation?
If the situation remains the same, then in the short term unemployment will rise.
And in the long term it depends on the government's next announcement.
They have to announce some kind of incentive scheme or tax package then things can return to normal.
As of today, the whole chain is in reverse mode.
Sales are not happening.
Manufacturers are not getting orders and whatever orders were placed earlier they are getting cancelled and that in turn is leading to effects in the raw material business.
The farmers are getting disturbed because they don't have cash to buy stuff.
The whole chain is quite disturbed and only if the government comes up with attractive packages then things can improve in the long run.
Finance Minister Arun Jaitley asked why traders need to deal in cash. They can conduct business in cheques, he said.
Why haven't traders adopted cheque payments in transaction?
More than 70 per cent of payment in urban cities is by plastic money.
It is not that shopkeepers do not have credit or debit card machines in their shops.
It is the tendency of people in our country to pay by cash.
It is easy for them and they do not believe in paying by credit or debit card because they get taxed while making payments through those cards.
Even the machines which we keep in our shops we have to pay commission to the credit card companies.
There is a tax structure in our country which is harming business.
If this tax structure is removed, then people will happily pay by credit or debit card.
The government has to look into all these things.
It is customers who like to pay by cash and not by card.
You say business is down by 50 per cent, but on the ground we do not see food shortages or inflation.
Why is the situation so normal on the ground?
The situation is normal because people will go to supermarkets and pay by their cards or through vegetable vendors by taking credit.
They might also give advance payment of Rs 2,000 notes for such transactions.
People will spend only on essential commodities. People will not go for anything luxury or extra shopping.
In Mumbai, retail business is suffering daily by Rs 325 crore (Rs 3.25 billion).
People support demonetisation, but what must the government do to build confidence among traders?
People are supporting the move because they feel that whatever Prime Minister Modi is doing, he's doing it for the sake of the country.
He is fighting against fake currency, black money and terrorism.
People are looking forward to how the government will announce schemes so that they can go ahead with their business without any hassles.