'Four years into his tenure and Modi still has no idea what is wrong with the agriculture sector!'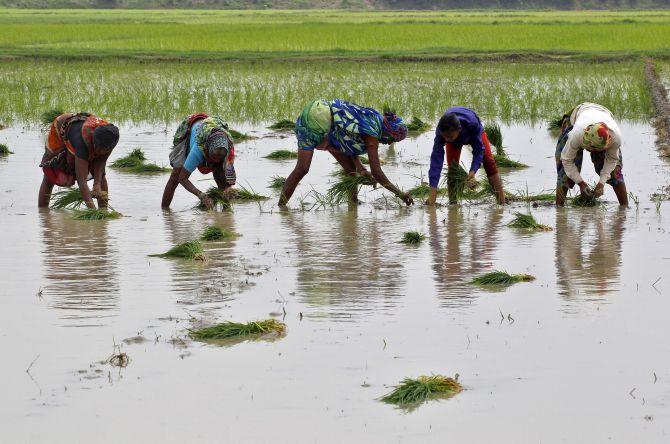 IMAGE: Farmers plant saplings in a paddy field in Allahabad, Uttar Pradesh. Photograph: Jitendra Prakash/Reuters
The Narendra D Modi government's last full-fledged Budget before the 2019 general election is being touted as 'pro-farmer' and 'agriculture friendly'.
However, P Chengal Reddy, chief advisor, Consortium of Indian Farmers, feels the sops given to farmers in the Budget are an eyewash.
"This Budget only tries to show that Modi needs farmers' votes in 2019... I would say these Budget sops for farmers are only a facade," Reddy tells Rediff.com's Syed Firdaus Ashraf.
Your first reactions to the Budget.
Before the 2014 general election, (Prime Minister Narendra D) Modi made many promises to the farmers. Therefore, he was able to sway farmers' votes in favour of the BJP (Bharatiya Janata Party), which was never known as a pro-farmer party.
(After his election, however,) He took the first unfavourable step towards the farm sector, when, in 2015, his government filed an affidavit in the Supreme Court that it will not be able to pay (a minimum support price of) production cost plus 50 per cent to the farmers as it will distort the markets.
Again, in 2016, when BJP-ruled states like Madhya Pradesh tried to give bonus to the farmers, Modi directed them against it.
Over a period of time his government systematically, in the past two years, started importing pulses and oil seeds even though there was a huge production in India.
For four years he tried to restrain (food) price-hike so that the urban middle class, his main vote bank, remains happy.
However, in the Gujarat election, the entire rural population revolted against him and the same happened in Rajasthan (by-elections).
I am asking you about this Budget. Isn't it pro-farmer?
(Union Finance Minister) Arun Jaitley had earlier said that he will increase the MSP by 1.5 times and that the government will make the entire procurement.
He later said the logistics will be worked out by the NITI Aayog in consultation with state governments.
Here is the catch. As of now, there is already an Agricultural Prices Commission in place, and all Jaitley needs to do is give administrative instructions to implement it within 15 days.
The APC could have fixed the prices. There is no need to go to NITI Aayog and discuss this issue.
Moreover, he said that all the products will be purchased and logistics will be worked out in consultation with the state governments.
I have a simple question. There are existing procurement institutions like the Food Corporation of India, the Cotton Corporation, NAFED (National Agricultural Cooperative Marketing Federation of India), state-level procurement agencies, thousands of co-operatives, and lakhs of self-help groups. There is also the private sector.
So the finance minister saying that he will work out the logistics means he is going to delay it by a year or two, and it will never happen.
But...
(Interrupts) Secondly, Jaitley tries to win farmers' votes by announcing an increase in (agricultural) credit (by 10 per cent) from Rs 10 lakh crore to Rs 11 lakh crore.
Last year, the share (of agricultural credit) given to small farmers was only 26 per cent, and tenant farmers did not even get 1 per cent (of it).
About 74 per cent of that credit went to the agro processing industry, the agriculture retail chains and others.
So we must understand and distinguish between the needs of farmers and the agro industry.
Moreover, Jaitley said he will give credit to all tenant farmers.
Now the fundamental problem is that tenancy is not legal in this country. Therefore, you cannot recognise a tenant farmer unless you change the (Agricultural) Tenancy Act.
And that is not going to happen.
So the question of giving credit to tenant farmers does not arise.
But why...
(Interrupts) Let me complete. He (Jaitley) spoke about APMC (Agricultural Produce Market Committee) reforms. He said he will have 22,000 markets and allot Rs 2,000 crore (Rs 20 billion) for market yards.
Market yards means procuring land, building infrastructure and giving salaries (to workers).
Now, divide Rs 2,000 crore by 22,000 markets and you will have about Rs 4,000 per centre (for the scheme after keeping money aside for salaries, infrastructure and regular expenses).
With Rs 4,000 you want to maintain the (market yard)?
Also, APMC reforms are not initiated by the Modi government (as claimed), but they began more than 15 years ago.
What they mean by APMC reforms is liberalisation of control over the movement of agricultural products anywhere in the country.
But Modi will not do it because all the agents in (farm) mandis are supporters of the BJP.
So, instead of simply passing an administrative order, this Budget tries to show that they are going to revolutionise the agricultural sector.
To the layman, it looks very attractive. But those who work on farms know that all these steps are impossible to implement.
Rs 500 crore 'Operation Green' has been announced to address the price volatility of perishable commodities like potatoes, tomatoes and onions to benefit farmers as well as consumers. Will this not help farmers?
Four years into his tenure and Modi still has no idea what is wrong with the agriculture sector!
He got Arvind Subramanian (chief economic adviser) from the United States and some others from Oxford and talks about 8 per cent growth in the services and industrial sectors.
But he has not been able to achieve minimum growth in the agricultural sector. The reason is simple.
India's agriculture requires a location-specific approach.
Technological advance in the agri sector is not on par with (that taking place) in the services and industrial sectors.
These are core issues for farmers and therefore they are turning against the BJP because (the respective governments) are not doing anything in this direction.
After (the) Gujarat and Rajasthan (election) results, now every farmer in the country will oppose the BJP.
This Budget only tries to show that Modi needs farmers' votes in 2019 so that he can 'double the income of farmers' by 2022.
So, I would say these Budget sops for farmers are only a facade.
He (Modi) is saying that he will do miracles for farmers, but we will expose him.
This Budget is seen as pro-farmer.
What pro-farmer? It's all eyewash.
Modi was a merchant of dreams earlier and now he has become a magician.
I am not a politician. I am into farm activism.
The Economic Survey of India said that in the last 30 years there is no productive improvement in any crop. Be it pulses, oil seeds or rice or wheat.
So why blame Modi? He has been prime minister only for four years.
Do you know genetic (engineering)?
The Americans are eating genetically modified food for the last 15 years. You must know that we Indians too are eating genetically modified food.
All edible oils we consume are genetically modified, so is corn flakes.
But, (unlike in America) our farmers are not allowed to produce genetically modified crops.
There is strong opposition to GM food...
How can this country have double standards?
You allow (Gujarat businessman Gautam) Adani to import GM oil worth Rs 50,000 crore (Rs 500 billion), but you do not allow farmers to produce GM crops.
The Government of India does not allow Indian farmers to import GM seeds.
The Modi government could have done this simple thing for farmers, but did not.
Therefore, I say the Modi government has no idea what the farmers want.
In India today, the farmer is like a slave in the Roman empire; an orphan and a social outcast.
Can this Budget curb farmer suicides?
Rubbish! I do not think so.
So you don't see any good for farmers in this Budget?
No. You use foreign-made mobile phones, take medicines made by foreign companies, but when it comes to agriculture, everybody questions and lectures farmers sitting in Delhi.
What do they know about agriculture?
It is a business. It is an enterprise, which requires the best technologies (imported) from across the world. It needs investments and requires great management skills.