'A lot of people -- whether farmers, students or businessmen -- think when they take a loan, that everything will go well and they will pay back.'
'Sometimes, things don't go well.'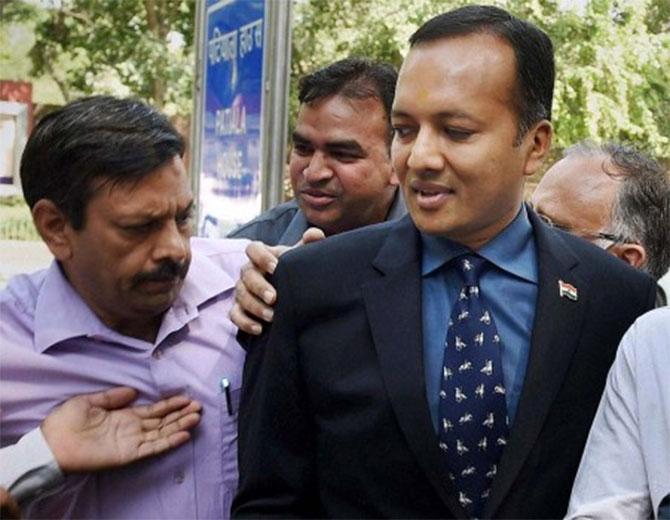 IMAGE: 'With the economy doing well,' says Naveen Jindal, 'within four to five years we hope to be relatively debt-free.'
Photograph: Atul Yadav/PTI Photo
The Jindal Steel and Power group, with a combined loan burden of Rs 46,500 crore (Rs 465 billion), has stayed out of the Reserve Bank's 'top defaulters' list. \
Naveen Jindal, group chairman, speaks to Dillip Satapathy about his plans.
Your company has been financially stressed for some years because of a high debt burden.
We never faced these problems earlier. But after the coal block cancellations (part of the general order issued by the Supreme Court), we were made to pay an additional levy of Rs 3,500 crore (Rs 35 billion).
Contrary to the CAG's (Comptroller and Auditor General) recommendation for incentivising those who operated their blocks, we were unfairly penalised for producing.
So we had to borrow Rs 3,500 crore, which today is more like Rs 6,000 crore (Rs 60 billion). And, paying paying interest on it. This has been completely unproductive.
So, a huge debt burden on us which we had a hard time serving for the past few years.
In the future, we will be very careful, very conservative, in borrowing.
It's not only us -- everybody should be cautious about debt.
Are you going to launch some sort of campaign against incurring of debt?
(Laughs) A lot of people -- whether farmers, students or businessmen -- think when they take a loan that everything will go well and they will pay back.
Sometimes, things don't go well. And, the lender keeps mounting the pressure.
Shakespeare had said, 'Neither a borrow nor a lender be.
It is very important for people to realise the need to borrow really less.
Wherever I get an opportunity to speak or talk to people or giving an interview, I must express this view.
How are you planning to cut your huge loan burden of Rs 46,500 crore?
The whole debt is not for steel.
Of the Rs 46,500 crore total, Rs 8,500 crore (Rs 85 billion) is for Jindal Power, a subsidiary of JSPL, having a 3,400 Mw power plant in Chhattisgarh.
Another Rs 14,000 crore (Rs 140 billion) is for international operations.
We have a two million tonne steel plant in Oman, and coking coal mines in Mozambique and Australia.
Only Rs 24,000 crore (Rs 240 billion) is for the standalone JSPL which has invested in steel operations in India. That way, it is not too much.
Any target for debt reduction?
It depends on so many factors.
Other things being equal and the economy doing well, within four to five years we hope to be relatively debt-free.
If the debt, whatever the total, comes down to less than 50 per cent of today's level, we are in good shape.
We hope to do this in the next five years.
We have not made any bank lose anything and we are going to honour all our commitments.
Whatever defaults were there have also come down.
I am sure in a year's time, we will start reducing our debt.
Is the newly commissioned Angul (in Odisha) steel project going to play a major role in these efforts?
We have spent more than Rs 30,000 crore (Rs 300 billion) at Angul. The plant was not earning anything.
On the contrary, we have made a loss of Rs 7,000 (Rs 70 billion) to Rs 8,000 crore (Rs 80 billion) here till date.
Now, the blast furnace for 4.2 mt capacity has been commissioned. It will take some time to ramp up production.
We hope in a couple of months this plant will start paying interest on the investment.
Using the earnings from here and other places, we hope to reduce our debt and have a healthy balance sheet.
How are your overseas ventures doing?
Coal mines in Mozambique and Australia are doing well.
There are some challenges in Australia.
We hope to overcome those. The main challenge is getting approvals.
One of the mines is working; the other mine is to start operation.
It is taking time to get the approvals. We hope to get these by the end of this year.
The Oman steel project is doing very well. So, things have improved internationally.
What is your take on the possible impact of the goods and services tax on the steel industry?
With key raw materials -- iron ore and coal -- in the lower GST slab of five per cent, steel industries will have lower input cost.
Together with an expected reduction in transport cost due to unified and standard rates under GST, this is likely to help steel companies, which are otherwise under the pressure of debt.
GST should bring seamless credit of all taxes, efficiency and an equitable platform.
So, there ought to be an overall positive impact on the industry.