It is mind-boggling to find our prime minister putting exports on the back-burner, says Jayanta Roy.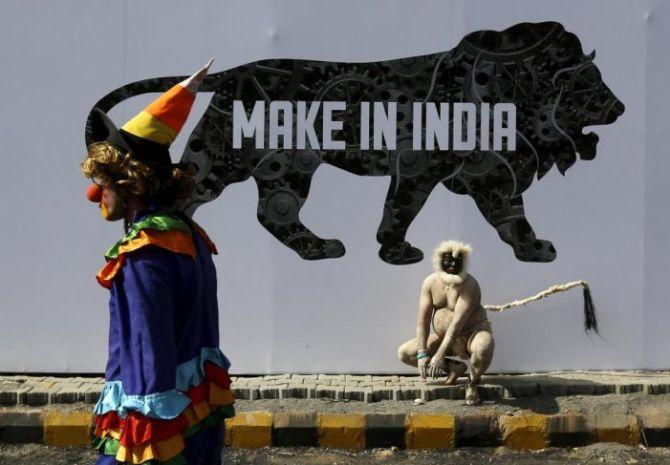 Image: The 'Make In India' week was held with great fanfare in Mumbai in February 2016. Photograph: Danish Siddiqui/Reuters
There is euphoria in India about a growth rate of over 7 per cent.
There are a lot of suggestions for creating jobs.
But there is total silence on revival of the lost export momentum.
Export growth is necessary for sustaining high growth and to create jobs in labour-intensive activities of the SMEs.
This has been true for India and all high-growth economies of Southeast Asia and China. No country can grow fast without integrating with the global economy, and achieving external competitiveness.
It is mind-boggling to find our prime minister putting exports on the back-burner after success in trade and investment in Gujarat.
It is pathetic that there is no trade expert in ministry of commerce and industry, making the ministry totally a misfit in this fast evolving global trade landscape.
India is now seen as a marginal trade player with rising protectionism. India should not take comfort from the perceived anti-globalisation drive in a few advanced countries.
China and Southeast Asian countries are still continuing to benefit from globalisation.
India needs to urgently focus on regaining the lost export momentum by focusing on trade and logistics facilitation reforms to reduce the massive trade transaction costs; improving the business environment to create a level playing field for SMEs; diversification of services to other professional services, especially in Big Data; innovative regional and bilateral trade agreements to increase market access, and to introduce institutional reforms in trade policy areas.
I will focus only on SMEs and aspects of institutional reforms in this column.
SMEs are likely to play a big role in promoting exports and creating jobs. But Indian SMEs suffer from not having a level playing field in the business environment.
India's dismal rankings in the World Bank's Ease of Doing Business index affect SMEs more than the large enterprises.
For SMEs we need to move away from giving incentives to creating an enabling business environment. SMEs create jobs -- 43 per cent of jobs created in emerging economies are from SMEs.
These are at the heart of linking to global value chains (GVCs), as they have been for Southeast Asian countries and China.
SMEs could attract all efficiency-seeking foreign direct investment (FDI) from multi-national corporations (MNCs), making India a hub for GVCs.
But Indian SMEs lack the capacity as well as support services to adjust strategically to changing global landscape.
From limited access to information and technology, to an enlarged current skills mismatch, Indian SMEs lag behind their worldwide compadres.
Workforce of Indian SMEs lacks the necessary skills to operate in a high-tech GVC environment.
Additionally, they have difficulty in penetrating global markets or be part of the GVC due to their inability to meet international product quality standards, demanded by an increasingly sophisticated international buyer.
Enterprises need to periodically train their workers in new design and packaging that satisfy fast-changing consumer trends.
Unlike the large enterprises, several SMEs operate outside the main cities and suffer from lack of business environment and access to trade services.
SMEs are also poorly represented in apex chambers of commerce and industry in India, which are dominated by large enterprises, who receive preferential access to trade services.
Moreover, public institutions provide most of the trade services available to SMEs, while private sector providers are generally absent.
This lack of private sector participation in the supply of trade services means that the power of competition cannot be leveraged to induce market innovations to drive down cost of trade services to benefit exporting SMEs.
Institutional reforms in trade policy are urgently required to make SMEs effective in promoting exports directly, or being a part of the GVCs.
We need to scrap the ministry of MSME since micro enterprises dependent on doles have no role in export promotion, and SMEs require no incentives.
Similarly, there is no role for ministry of heavy industries, which reflects the antiquated "commanding heights of the economy" thinking of our socialist past.
We should also do away with ministry of commerce, which champions protectionism and giving out doles to exporters through its annual EXIM policy.
There is no case for giving sops to industry to encourage exports. Adherence to 21st century trade reforms is sufficient for this purpose.
An enlarged Department of Industrial Policy and Promotion could replace the ministries of commerce and industry, heavy industry, and MSME, and promote development of industry, especially SMEs.
It can also serve as a secretariat of "Make in India", and help create an enabling business environment with much improved rankings in World Bank's Ease of Doing Business and World Economic Forum's Global Competitiveness Index.
India also urgently needs to create a trade policy institution that is able to operate efficiently in the new global environment.
In order to separate the strategic decision-making process related to trade and industrial policy from day-to-day operational issues, a new, independent trade policy council, like the US Trade Representative, needs to be developed, which reports directly to the PM.
Its role could include strategic decisions on multilateral, bilateral, and regional trade policy; policy related to FDI; policies related to trade facilitation; strategic policy-making on improving India's competitiveness; policies to improve India's logistical capacity and connectivity; and policies to make India ready for the structural changes in global production focusing on skilling and technological acquisition.
This most damaging neglect of exports by the government must end soon.
Jayanta Roy is a well-known trade economist who was economic advisor in the ministry of commerce during 1989-93.