'You can accuse him of many things, but one thing you cannot accuse him of is being bad at politics,' says Aakar Patel.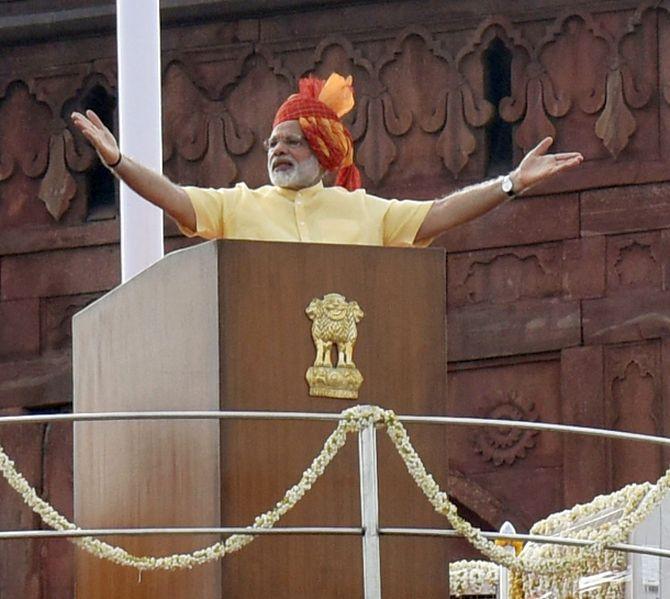 Last week, I spoke to a group of students, about 1,000 in a large hall, in a Bangalore college. Many of them were economics students.
I was on stage with two members of Parliament and I asked the audience this question:
'How many of you think that India's GDP has grown faster in the last three years than in the average of the UPA's decade?'
I asked that those who thought it was growing faster today should raise their hands.
Almost all the students put their hands up, though the fact is that the average in the UPA years was over 8% per year and the economy has on an annualised basis never touched that in any of the three years of the NDA.
And, as I said, many of these were economics students who should have known better. But the fact is that it is difficult to debate politics through data, particularly in India.
I am saying this because the Opposition thinks two recent events can be used to turn the tide in politics against the Bharatiya Janata Party.
The first was news that demonetisation has failed.
Almost all the Rs 1,000 and Rs 500 notes have been exchanged for new Rs 2,000 and Rs 500 notes, meaning that black money has been converted to white.
If the government thought it could get rid of a few lakh crore rupees of black money which would not be deposited, this has not happened.
Now the way to tackle the black money is to do so through notices and tax recovery, which in India is not easy and not quick.
The second place demonetisation failed is on terrorism, or what is defined as terrorism in India.
Outside our three conflict areas, there is actually very little terrorist violence.
This year there has been 1 death from terrorism, last year the figure was 11, the year before that 13 and the year before that it was 4.
When the government refers to demonetisation and terrorism it is talking about violence in Jammu and Kashmir.
The defence minister (who was also finance minister, and therefore should have data on both terrorism and demonetisation) has claimed that notebandi has curbed the violence in Kashmir.
Has it? No.
Last year there were 267 deaths there. This year, in 8 months, there have already been 239. This is proof that demonetisation did not affect what the government calls terrorism negatively.
The third and last place the prime minister had claimed demonetisation would be effective was corruption. Not in high places, because he had already ensured that.
He said demonetisation would curb corruption in other places because of a shortage of cash. I will leave it to the reader to determine whether or not that has happened because there is no data I can share on that.
The second thing that has enthused the Opposition is the revelation that the economy is in decline. Again, we have data here so we can be sure.
India's economy has been slowing each quarter for the last five quarters, meaning it has been decelerating for 15 months.
Between April and June, the government data shows that it grew at only 5.7%.
This is attributed, if you are a government supporter, to the Goods and Services Tax and de-stocking.
Meaning that companies were not sure about how to price their products after GST and so they stopped manufacturing in June, once GST was announced for July 1, and emptied their godowns.
If you are a government opponent the decline of the quarter is a mix of GST and demonetisation.
Opponents will say that former prime minister Manmohan Singh, who is an economist unlike Arun Jaitley (who is a lawyer) and Narendra Modi (who has a correspondence course degree in political science) had said that demonetisation would hit India's GDP by 2% points and he has been proved right. Perhaps he has.
However, for those of us who are neither on this side nor that, it is clear that if the economy has been slowing for five straight quarters, it is not the result of one thing.
There is something fundamentally wrong in this government's economic management.
So can the Opposition assume that they have the government on the ropes on the facts and data and therefore have an advantage? My answer is: No.
We have often had leaders that have delivered very low economic growth but have still been very popular.
Both Jawaharlal Nehru and Indira Gandhi won multiple elections while delivering much less than 5% growth.
The second thing is that Modi has changed the narrative of demonetisation.
All the things he had spoken of have been forgotten. He has moved on to other things, like digital and less-cash.
You can accuse him of many things, but one thing you cannot accuse him of is being bad at politics.
I asked that audience of 1,000 young people in Bangalore how many of them felt their lives had physically changed for the better since 2014 because of the central government's actions.
Again, most hands went up. As long as that happens, and certainly for the next few months, Modi should feel just fine.
Aakar Patel is Executive Director, Amnesty International India. The views expressed here are his own.