'I wondered how one could impart training to grown men to not lie,' notes Keya Sarkar.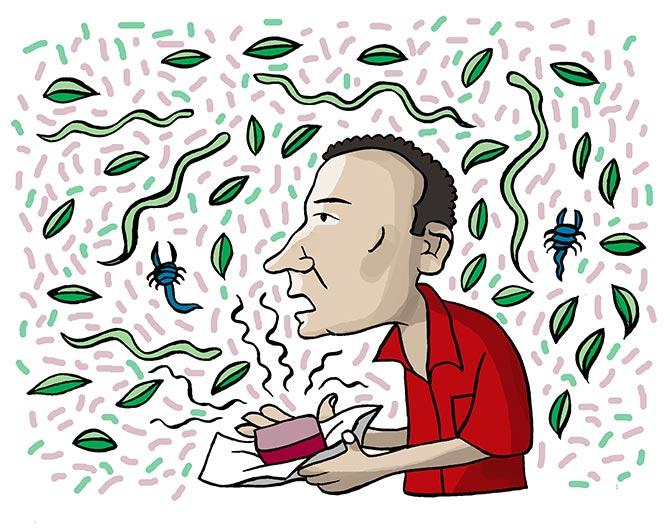 Over the years that I have been in Santiniketan engaged in the craft business, my enterprise has gained customers within India and outside. It feels good to know that our handiwork is now sold in shops in almost all the big cities of India and a few in Europe.
This has meant dealing with many courier companies both public and private.
For many years, I had great faith in India Post and used their services extensively. Their tracking worked well and I seldom had a problem.
But as the business grew and the parcels to be delivered increased, I realised that India Post was fine till you had a problem. If you did, there was nobody to call.
So I switched to a private sector couriers. They were nice enough to offer a daily pick up service (it's amazing how little it takes to be considered 'big' in West Bengal).
When I worked in Mumbai, I always gave whatever needed to be posted to the office help and never got to know the courier companies intimately. But now that I run my own shop, my phone contact list has many names of courier company personnel. I know exactly who to nudge at which 'hub' in case of a delay.
Considering the size of our country and the number of letters/parcels delivered every day, the courier guys are doing a wonderful job. But when your parcel is delayed and payment is at stake you suddenly become less understanding.
So I have had words with courier companies over parcels being 'misrouted' or delays because of bad weather. I even had a tracking sheet for a parcel sent to Geneva say that the parcel had been delivered at Lavasa.
But in all these years, delays have been because of understandable reasons and tracking sheet updates have reflected genuine human errors.
Till recently, when I had two parcels to be sent to the IAS Academy in Mussoorie. Knowing that Santiniketan to Mussourie is a long way, especially in the rains, I sent off the parcels much before the delivery date.
I closely followed the tracking update and realised that instead of darting across the skies as I had imagined in my mind's eye, my parcels were staggering from hub to hub.
All was fine till one update said, 'Wrong pin code. Will impact delivery'. I was rather concerned and wondered why the Academy had not informed me of such a change. But I was relieved at the next update 'Shipment redirected on same airway bill'.
When I followed up with the local guys who had picked up the parcel they apologised for the delay and said that the parcels would definitely be delivered on the next day which was a week day.
But at the end of the day, the tracking sheet said, 'Holiday. Delivery on next business day'. Which I knew was untrue because I had spoken to the Academy that day.
Anyway I waited. The delivery did happen the next day.
All customer complaint numbers for Kolkata or the eastern region gave me a recorded message with no options to talk to a person.
I called the company's public relations office in Mumbai. They gave me a patient hearing and said that they would inform the head of customer service, eastern region.
The lady called me promptly. I was impressed. I stated my case simply, "Why the lies?"
I got a mail in explanation: 'The matter has been addressed internally with the delivery personnel; there has been an incorrect status updation for which necessary training is being imparted'.
I wondered how one could impart training to grown men to not lie.