'The problem seems to be this: Whereas as chief minister Modi was anxious to draw attention away from himself and divert it to his economic deeds, as prime minister he has been doing the opposite,' says T C A Srinivasa Raghavan.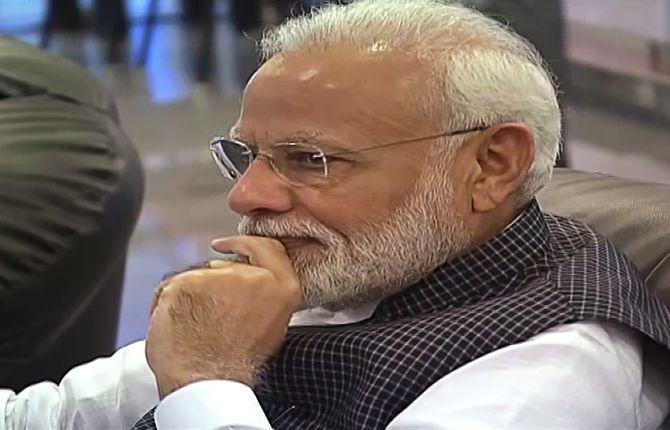 This article has been triggered by a question that the editorial director of this newspaper, A K Bhattacharya, asked some days ago during a talk he gave on the economy. Why was the government not able to get its version about the RBI's transfer of Rs 1.76 trillion across, he asked.
How is it that the opposite version now dominates the discourse?
Which brings me to a larger paradox. How does Prime Minister Narendra Modi get his personal messaging and the government's political messaging so right -- Modi as saviour, Article 370, triple talaq, etc -- while getting its economic messaging so wrong?
If you look back, it was the opposite in Gujarat during its Modi years from 2002 to 2014. As chief minister Modi got his economic messaging spot on -- remember the Gujarat Model? -- and his personal messaging quite wrong.
How is it that eminent and neutral economists like Bimal Jalan and Rakesh Mohan are being implicitly charged with toeing the government line? Neither is a bhakt of the "BJP is always right" variety.
The same thing can be said about many other things. Take the case of GDP.
Pronab Sen, who headed the ministry of statistics and supervised the new GDP series, is like a brother to me. TCA Anant is actually a very close cousin. They are not bhakts by any stretch of the imagination. Quite the opposite, actually.
Even on demonetisation, banking, NPAs, employment, exports, exchange rate management, fiscal deficit, etc the government has failed to get its message across. Such comprehensive failure is quite extraordinary. Even the UPA's woes in this regard pale in comparison.
This may not cause the BJP electoral worries. But cow worship cannot be the only measure of patriotism. Surely one important measure of patriotism is also to not make your country look bad to your own people.
Its own enemy
This is not to say that the government version would be 100 per cent correct and the opposite version is 100 per cent wrong. But where the NDA's economic performance is concerned, the truth lies not somewhere near the middle but closer to the government version.
It's just that it can't get this across effectively. So the dominant impression is the opposite one -- that everything is totally, well, messed up, shall we say.
Modi Mark II needs to think about this and not insist that messaging is also only a cyclical problem and not a structural one.
Truth to tell, it is purely a structural one, and it starts with the prime minister himself and its roots lie in the sustained personal attacks on him after the riots of 2002.
His response has been to ignore the Opposition and the media completely. You should listen to the speech he gave on May 24, 2013, at the launch of the Ahmedabad edition of the Hindu Business Line, where I was employed then. "I don't need any of you," was his message. It is available on YouTube.
To make matters worse, several persons currently holding important positions, or who had held such positions, have begun to muddy the waters.
Prominent among them are some currently serving part-time members of the Prime Minister's Economic Advisory Council and some former members of the Statistical Commission, one former RBI governor and one former chief economic advisor, who was his chela. The combined effect is quite devastating.
It is no coincidence that they are all academics who believe in the freedom of speech provision of the Constitution but not in the other part which imposes reasonable restraint. If nothing else, mere good manners demand that you behave yourself.
That said, there is the bad news itself. One relates to the slowing of the rate of output growth and the other to the rate of growth of jobs. Since neither can be explained away by bad news management, what should the government do?
The real problem
To me the problem seems to be this: Whereas as chief minister Modi was anxious to draw attention away from himself and divert it to his economic deeds, as prime minister he has been doing the opposite.
Someone in the Prime Minister's Office needs to tell Modi that he is the problem. Previous prime ministers always had someone who would tell them this. The list is long, starting with P N Haksar and ending with Pulok Chatterjee.
It didn't always work but it didn't always fail, either.