'With his envious academic record, extraordinary research calibre and unparalleled work experience, we can trust him to become the first Indian -- fully Indian, not one of those Americans of Indian origin -- to win the Nobel Prize in Economics,' says Sudhir Bisht.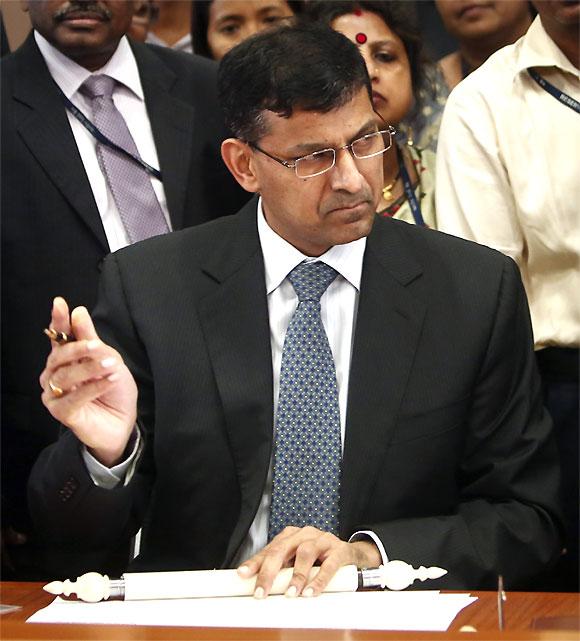 IMAGE: Dr Raghuram Rajan has earned the respect of both the prime minister and finance minister, says Sudhir Bisht.
No head of an institution in recent times has been so adored as Raghuram Rajan, the IIT-Delhi graduate-IIM-Ahmedabad post-graduate and MIT doctorate.
For the Dalal Street media he is the equivalent of Rajnikanth in the drab world of bureaucrats. I haven't seen one issue of any business or trade magazine that doesn't feature his photograph in almost all issues.
The tall and handsome Raghuram Rajan -- or R3 as he is called by the Twitterati -- had everyone eating out of his hand for a long time.
Influential television lady anchors blushed when interviewing him while some male journalists grimaced in apparent envy when they needed to speak to R3 on television. Glamorous socialites -- not the Page Three types, but the ones who appear on the Arnab circus routinely -- were openly in awe of his good looks.
Oohs and Aahs were often expressed for this man whose excellent academic credentials and achievements often took a backseat in the subconscious of the television pundits when they sought to analyse his run as RBI governor.
It took someone who also earned a doctorate from the US to suddenly halt R3's all-conquering victory chariot.
See how Dr Swamy decided to go against Dr Rajan when he tweeted:
@Swamy39 -- May 21: R3 must now make available as did Hilary all his raghuram,rajan@chicagobooth.edu emails since he took RBI Gov office in 2013
I, an ardent Swamy admirer for his guts to take on the mightiest of the land, but also someone who liked Dr Rajan's fiercely independent and determined style of working, pleaded:
@sudhir_bisht to @swamy39: Sir please concentrate on big sharks -- RaGa, SoGa and Chidu. Leave R3 alone
Dr Swamy replied, sarcastically and perhaps annoyed that his legion of fans was unhappy with his taking on Dr Rajan:
@swamy39 to @sudhir_bisht: Yes Gradnpa
Suddenly, social media turned into a Rajan-must-go forum, even as the mainstream media kept showering praises on the RBI governor.
Someone even suggested -- of course, in jest -- that it was an Iyer versus Iyengar thing. I don't know the difference between the two stocks, but jokes apart, within a few days Raghuram Rajan's automatic selection for a second term as RBI Gov appeared torpedoed.
Bombay circles were livid at the thought of Dr Rajan not getting a second term. There were edit page articles on what a brilliant job he was doing at the RBI.
How with an acute sense of timing he drove down inflation and how magnificently he stood against the arbitrary calls to reduce interest rates.
He was hailed for being the first RBI governor who had a view on the Indian economy being a one-eyed achiever in the blind global economy. He was hailed for his adding a nuanced point of view to the tolerance-intolerance debate.
But nothing deterred Dr Swamy, even after Arun Jaitley's veiled displeasure and the PM's stoic silence, from criticising Dr Rajan and making him responsible for all that the NDA could not achieve on the economic front.
To his credit, Dr Rajan hasn't said a word in his defence and has kept completely mum on Dr Swamy's allegations of sending emails using his non-RBI email account and about his alleged lack of having a fully Indian mentality. He has simply chosen to walk away when his tenure ends this September.
Has Dr Rajan decided to walk away due to Dr Swamy's onslaught?
I don't think so.
Dr Rajan has it in him to withstand all his adversaries. He is a doughty fighter. He held his own position on interest rates even when Finance Minister Jaitley, unarguably the second most powerful man in the executive after the prime minister, expressed his dignified support to much quicker lowering of interest rates.
It is well known that important ministers like Power Minister Piyush Goyal and Commerce Minister Nirmala Sitharaman weren't exactly very fond of the RBI governor and the Swadeshi Jagran Manch, the Sangh Parivar's economic wing, was always at loggerheads with his policies.
In spite of all the opposition from so many quarters, Raghuram Rajan was able to earn the respect of the finance minister and prime minister. He was able to establish a full working relationship with both men soon after the change of guard in May 2014.
People who know the track record of both the FM and PM know that it isn't easy to earn the respect of these gentlemen unless one is exceedingly good at her/his job. So even though Dr Swamy's attack on him may have made Raghuram Rajan unhappy, I don't think he is going away because of that. At least, not just because of that.
Would Dr Rajan have wanted another term? I don't think so.
He has reached the pinnacle of his administrative career in a Government of India job. He has already been hailed as one of the best central bank governors worldwide.
His wish -- if what the mandarins in the corridors of power allude to is true -- that the RBI governor's position should be on par with that of a Cabinet minister had no chance of getting fulfilled. So there was nothing left for Dr Rajan to achieve in terms of position of eminence or repute.
Raghuram Rajan is 53 years old. For someone who may have at the most 10 to 12 productive years left, he may like to achieve more professional glory. He may want to become the first Indian to be head of the World Bank or the IMF or any such prestigious economic body.
As someone who was awarded the coveted Fischer Black Prize in 2003, he may like to build further on his great reputation.
Raghuram Rajan may also want to immerse himself in research and come out with new pathbreaking economic theories. He has worked with the IMF. He has been chief economic advisor to the Government of India and the governor of the Reserve Bank of India, the economy that has the highest growth rate and also has the challenge of still having the highest number of people living below the poverty line.
With his envious academic record, extraordinary research calibre and unparalleled work experience, we can trust him to become the first Indian -- fully Indian, not one of those Americans of Indian origin -- to win the Nobel Prize in Economics.
So Adieu R3!
To me you are 100% Indian. I know it, as our schools were separated by less than 1 kilometre in R K Puram, New Delhi. Though I don't know you personally, I can relate with you as one relates to a contemporary. You can't be less Indian than me for sure just because as you went to the IIT, I went to Dr Swamy's Hindu College!
Sudhir Bisht, author and columnist, tweets at @sudhir_bisht