In a country where the onslaught of automation is stealing jobs from traditional high-growth sectors, 'velocitors', or young companies with the ability to break away from the pack, will spur entrepreneurship and job creation, says Ganesh Natarajan.
Illustration: Dominic Xavier/Rediff.com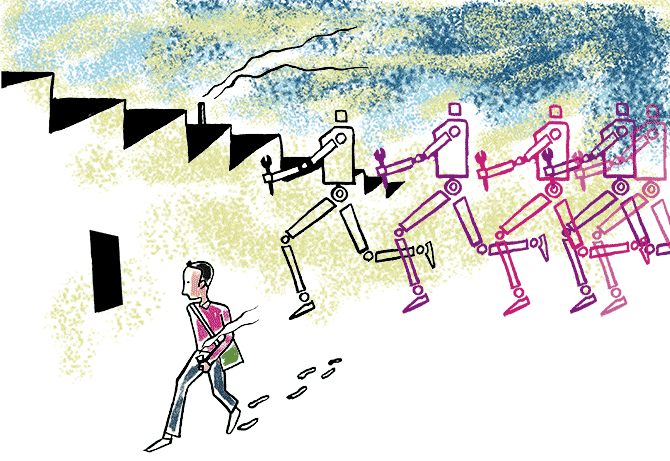 Industry 4.0 is evolving with manufacturing and logistics firms embracing the opportunity for cyber-physical transformation, design thinking is enabling large firms to shape the creation of new holistic ecosystems for customers and supply and demand chain partners with firms, and digital technologies and platforms are touching and transforming every touch point with every stakeholder of a business enterprise.
The digital economy, too, is coming of age with the government's determination to connect all the 250,000 gram panchayats and set up common service centres and smart cities to capitalise on the power of connectivity holding out the promise of a Digital India where no citizen will be left behind.
The "India Stack" could well lay claim to being the Time "Personality of the Year" if such an award were to be given in India, and the speed of adoption of digital interactions in the country augurs well for a transformed nation in the not-so-distant future.
In all this hype and hoopla surrounding big company and government adoption of digital, one must not forget the capabilities of tens of thousands of start-ups and young companies which have embraced the opportunity to identify discontinuities and start companies that can solve critical business problems and also address national issues like skills and healthcare for all.
In a recent national initiative to identify "velocitors", or young companies which have the ability to break away from the pack and provide innovative digital solutions across an array of technologies and business processes, it has been heartening to note the capabilities that many of them have already demonstrated to be the digital stars of the future.
In a country where the onslaught of automation is stealing jobs from traditional high-growth sectors such as automotive manufacturing, banking, applications support and testing in the IT sector and other repetitive areas, it is these velocitors which will provide the acceleration needed to new entrepreneurship and job creation and solve the one dilemma that persists even as the economy resumes its upward march.
Broadly, there are 12 categories where velocitors can dwell and succeed with sharp focus on product quality, customer focus and marketing and communications excellence.
It all starts with design thinking, with the focus moving from product design to a new way of thinking which leverages the opportunities available through customer access and supply chain visibility to create new engagement and service models.
This area is being mastered by all large consulting houses and technology firms today.
The next four are the SMAC stack of social media, mobility, analytics and cloud, which has been embraced at least at a basic level by most progressive organisations and definitely by the Government of India today and also exploited well enough by the large incumbent vendors, hence closing the doors on new entrepreneurs.
Where opportunities for innovation and new champions lie is clearly the next seven areas - advanced analytics using artificial intelligence (AI) and machine learning, robotics and robotic process automation, blockchain, Internet of Things, user experience, digital platforms and cybersecurity.
The market leaders in these areas in any country, from the US to Israel to UK to Singapore to India, are very different from the traditional names one is used to and although the incumbent technology vendors offer solutions, it is a real window of opportunity for smaller firms to show their wares in these areas and get acceptance with key customers.
Cases in point are e-Zest, which has built a quiver of arrows in the form of a chief digital officer's tool kit to substantially improve time to market, quality of deliverables and digital service delivery costs; Skills Alpha which is transforming the process of employee engagement, career management, skills acquisition, reskilling and community engagement; and Systech which has built an enviable array of use cases in master data management, business intelligence, big data, AI and machine learning for some of the world's best companies in retail, consumer goods, manufacturing, health care and insurance.
What many of the champions in each of the 12 categories share is the unwillingness to let size deter their propositions to large companies, an attribute which can be developed and enhanced through mentoring and participation in supportive collaborative ecosystems.
Getting start-ups to scale and participate and succeed in the digital economy will need three willing stakeholders -- the government which should relax criteria of revenue and past record to enable young companies to deliver their products and services to large national digital initiatives, organisations which will open their applications to niche technology providers and provide the use cases needed for success, and the companies themselves who need to ensure that they get off a pure technology high horse and reach out to build better solutions for real customers.
The government through Digital India and some recent announcements made at the Global Entrepreneurship Summit seems ready and willing though the test will lie in the policy fine print when new tenders and requests for proposal are floated.
Visionary companies like Bajaj Finserv have already made systematic moves to engage start-ups in India and worldwide and some of the young companies like the ones mentioned here have already set themselves on a path to success.
If Digital India meets Start-Up India halfway, the results can be spectacular. Let's work to make it happen!