The question is, what kind of services can low skill people provide to high-skill people who increasingly spend more time in virtual worlds, thanks to ongoing wealth gains at the top? Ashish Sharma attempts an answer.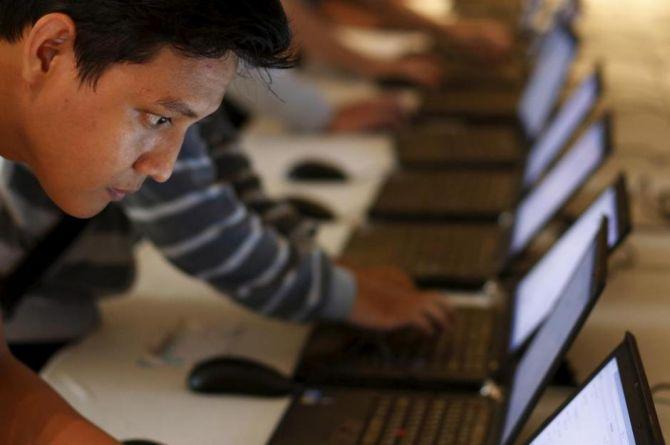 At a recent interaction with students and faculty of the University of California in the US, Congress vice-president Rahul Gandhi said joblessness was a serious problem confronting India.
Thirty thousand youth join the job market every day, Gandhi said, but the government creates only 500 jobs a day. Roughly 12 million young people enter the Indian job market every year, he added.
What he missed, however, was the fact that it becomes very difficult in the digital age to create jobs, because the technological system within which we live replaces humans with machines in order to promote more efficient production.
Automation, for example, is causing job losses across the information technology (IT) sector. And from automation in manufacturing, IT and elsewhere, it is apparent that most jobs that require little skill will eventually be done by a digital entity.
If we think about the low-skill people about to be displaced, we can wonder what sort of work will they be able to find, and where?
They will have to find something to do, something they can do that machines cannot, and that others who have means will pay them for.
And who are those others? They are the people with high skills, whose special gifts are impossible for a machine to recreate.
The question becomes, what new social arrangement might emerge between them and in what environment? Is there some new way that the rich person can hire the poor person?
Because already, many of my laid-off IT friends seem to have abandoned the world of work simply for video games and poverty.
Low-skill men, thus, seem to be choosing the virtual world of games. And the only avenue of compensation open to them is service in games.
The question is, what kind of services can low skill people provide to high-skill people who increasingly spend more time in virtual worlds, thanks to ongoing wealth gains at the top?
The answer is companionship in virtual worlds. All of us can play virtual worlds, regardless of skill.
Virtual worlds are designed so that all the players have fun, including those whom the outside world would call "low skill".
Also, most virtual worlds are free to play, and can quickly gain a large population of players. Those players create buzz and excitement; they confirm to the world that it is a good game.
But those players do not generate much revenue for the game. It is only a few big spenders who generate revenue and make the game turn a profit.
These people spend thousands every month on the most trivial of game items. A very large portion of revenues is provided by a small percentage of the player base.
What then is the role of all the other players? What purpose is served by all those people in the Second Life virtual world who join in for free and don't generate much revenue for the game?
Those people are a critical part of the revenue model, for they form the social environment within which the big spender can make friends.
Without these free-loaders, the big spender has nobody to woo, talk to, or impress with his virtual assets in games like Second Life.
Consider Sohni, a moneyed 3D avatar in Second Life who took me on a virtual tour of her Taj Mahal, making me watch a virtual sunset over the Yamuna river flowing nearby.
And, for being kind enough to take the tour, she dropped me a few virtual dollars.
Clearly, without free gamers like me, Sohni, the spending gamer, would have nobody to talk to and nobody to impress.
This much is also in evidence at SeekingArrangement.com, where older moneyed men (sugar daddies) get outnumbered by cute young women (sugar babies) simply because entry is free.
The free spending of the few sugar daddies on upgrades and stuff suffices to support the online dating site, not to mention the sugar babies.
Needless to say, sugar babies massively outnumber sugar daddies, providing what one sugar daddy on the site calls "the best fishing hole I ever fished in".
Free structures like these illustrate there is a role in virtual worlds for people who do nothing but play. They don't have to be smart, they don't have to be good, they don't have to be dedicated, honest, or loving.
They just have to hang around, and -- this is important -- be people.
In the automated times ahead, low-skill workers displaced by machines will be able to tap the rich who devote time and money to leisure activities in virtual worlds, thanks to ongoing wealth gains at the top.
Photograph: Beawiharta/Reuters.