'Vishal Sikka may have realised that he was in no position to deliver on the promise Infosys made to its shareholders.'
'Perhaps he was looking for an escape route and he quit under the cover of "continuous drumbeats of distractions",' says Sudhir Bisht.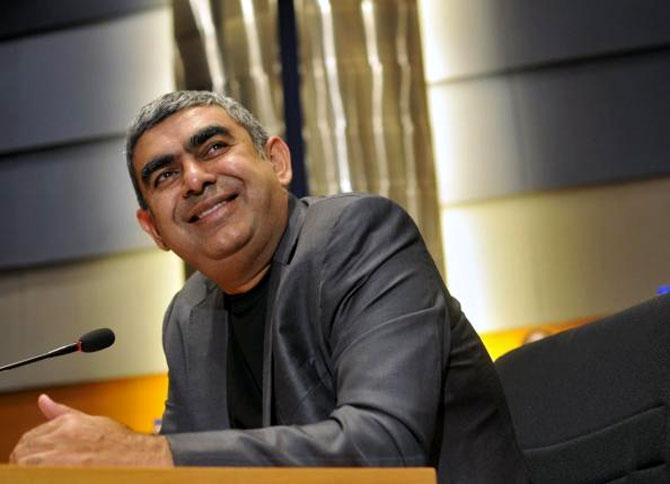 You are the MD/CEO of an $8 billion enterprise.
You operate out of Palo Alto, California, thousands of air miles away from Bengaluru where your company's board of directors sits.
You have the freedom to pick any person, sack any person.
No questions are asked, no eyebrows are raised.
Your board supports you when you pay a mindboggling, outlandish severance package to an outgoing CFO.
Your board backs you to the hilt when an ageing activist-like co-founder questions you about your salary and on the bonuses that you may earn.
When you acquire a company for $200 million and when the co-founder questions the propriety of the deal, the board merely appoints legal firms to conduct a probe, but the full probe report is not made available to the co-founder.
With so much freedom of operation and so much backing from the board, what do you do?
You quit because you were distracted by the 'continuous drumbeats of distractions' by the co-founder who commands less than 4% share of the company that you head.
The above description sums up the chickening out of Vishal Sikka, PhD from Stanford University and ex-CTO, SAP SE.
Vishal Sikka was the CTO of SAP's crown jewel, a product called SAP HANA, before he was picked by Infosys to become its MD and CEO in June 2014.
Infosys had closed financial year (FY) 2013-2014 with a turnover of Rs 50,000 crores (or around $8.2 billion).
The newly appointed Dr Sikka and a committee set up by the Infosys board set an ambitious target of making Infosys a $20 billion company by March 2021.
A little over two years since Dr Sikka took over as MD and CEO, the company appears far away from that projected target of $20 billion.
The table below captures the essence of what I am saying.
Data culled from https://www.infosys.com/investors/reports-filings/annual-report/annual/Documents/infosys-AR-17.pdf
From the table, it is evident that Infosys under Dr Vishal Sikka, the professional CEO who was hired by Infosys at an annual package that may be more than the lifetime salary of a mid-level Infosys employee, has been trotting when it was supposed to be cantering.
For Infosys to become a $20 billion company by March 2021, Infosys had to show a growth of 13.5% year-on-year (YoY) from April 2014 onwards.
Under Dr Sikka, Infosys showed a growth of about 5% for the FY ended March 2015.
In the next year, Infosys achieved a revenue growth rate of 9% and in the FY ending March 2017, Infosys growth was just a little over 7%.
If Infosys has to achieve its $20 billion revenue target by March 2021, it has to grow by at least 18.9% growth year-on-year over the 10.2 billion USD revenue it achieved in FY ending March 2016.
This appears to be a near impossible task.
Dr Sikka may have realised that he was in no position to deliver on the promise Infosys made to its shareholders.
Perhaps he was looking for an escape route and he quit under the cover of 'continuous drumbeats of distractions'.
Dr Sikka doesn't elaborate the source of these distractions.
N R Narayana Murthy, Infosys' co-founder, has been making a noise about Infosys not being run in line with the core values of the founders.
He protested against the bizarre compensation packages and fantastic severance pays of Infosys' CXO level executives.
Narayana Murthy also wants the full report of the independent investigation carried out by the two legal firms on the Panaya acquistion for $200 million.
Murthy is not someone to whom Vishal Sikka reported to. Murthy is not a member of the Infosys board and hence his protests should not have led to Sikka getting distracted to the extent of throwing in the towel.
Murthy, who had been exceedingly critical of the Infosys board and has raised questions on its corporate governance, has every right to criticise the company that he co-founded.
He was doing so as an activist shareholder who is no longer bound by the shackles of being a member of the board.
He is a free bird and even if he appears to be a free radical, his drumbeats should not have frightened Vishal Sikka out of his wits.
As long as Murthy is not itching to get back on the Infosys board and as long as he is not making a grand plan for the entry of his children on the Infosys board, he is well within his rights to keep criticising the company on matters of ethics, morality and corporate governance.
It is likely Dr Sikka quit Infosys as the realisation grew on him that he would not be able to achieve the targets that he set for himself for FY ending March 2021:
a. $20 billion revenue;
b. Operating margin of 30%;
c. Per employee revenue of $80,000 per employee.
The table proves that in terms of revenue per employee, Dr Sikka and his management team were able to make virtually no change.
The company had a per employee revenue of $51,426 in FY 2013-14 and in the last financial year it dropped down to under $50,876 per employee.
Dr Sikka's supporters may say that under his leadership, Infosys outperformed TCS and Wipro. But then the targets set by Dr Sikka for himself were not to outperform these competitors.
His targets were what now look impossible to achieve unless Infosys makes some big ticket acquisitions. The $20 billion dream appears too gigantic to be achieved by organic growth alone.
And if Dr Sikka did indeed quit because he was distracted by the 'drumbeats of distractions', then I have just two things to say.
Vishal Sikka is just CTO material, and not CEO material.
Dr Sikka may be a man of high IQ, but his EQ needs to be tested.
Sudhir Bisht, author and columnist, tweets @sudhir_bisht