State airline's plans to buy more long-range aircraft is baffling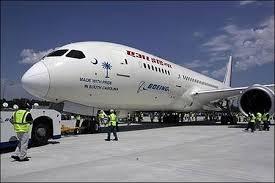 Some months ago, Civil Aviation Minister Ashok Gajapathi Raju squarely blamed his predecessor Praful Patel for the financial mess in which Air India finds itself. Now, the airline under his watch appears to be headed on a similar flight path.
The United Progressive Alliance government's decision to buy 111 long-range aircraft for a staggering Rs 51,000 crore (Rs 510 billion) loaded the flag carrier with accumulated losses of Rs 31,000 crore (Rs 310 billion).
In October, Mr Raju, as minister of the National Democratic Alliance government, told a local daily that buying over 100 aircraft did not make commercial sense.
Yet, just five months later, Air India says it is planning to buy five Boeing 787-9, an upgraded version of the 787-8 Dreamliner, at a cost of nearly Rs 8,000 crore (Rs 80 billion), scheduled for delivery in 2017.
This is an incredible decision for several reasons.
For one, the airline, already on a Rs 30,000-crore (Rs 300-billion) equity infusion from the government, clearly cannot afford to splurge; if anything, it needs to accelerate cost-cutting plans.
The saga of the 787-8 Dreamliners is a case in point.
Currently, the airline has taken delivery of only 20 of the 27-aircraft order, owing to several technical glitches (this order would be completed only in mid-2016).
Of these 20 aircraft, 11 were sold and then leased back as a cost-saving exercise. Meanwhile, Air India was clearly struggling with other aircraft purchases; early last year, the airline sold eight Boeing 777 to Etihad Airways at reportedly one-third its 2004 price. In other words, the airline's need for long-range aircraft is not as urgent as the UPA government's lavish shopping list had suggested -- which is why Dreamliners also ply several domestic routes on which they are almost certainly losing money.
Logically, new aircraft purchases are made only when the routes on which they are supposed to fly are deemed profitable.
Yet an internal study last year suggested that the airline lost money on 57 of its 59 international routes in 2013-14 (interestingly, two of the three loss-making flights -- to Newark and Heathrow -- originate from Ahmedabad, though they started before Narendra Modi's prime ministership).
Lower oil prices may have changed the profitability equations a little this fiscal, but there is no reason to suppose this state of affairs can be sustained -- at any rate, to predicate profits on volatile oil prices is poor business planning.
Set against these hard realities, the proposal to buy five 787-9s, which offer more seats and longer flying distances, with money the airline clearly does not have, flies in the face of logic.
Although operating losses have almost halved from 2011-12, the airline wants to persuade the government to convert its equity contribution into a grant to wipe out losses, a move that suggests that its crisis is not over.
If anything, this proposal only underlines the fact that acquiring more long-range aircraft would only be compounding an egregious error.
It is far from certain whether the government has a clear sense of what the longer term future of Air India is.
Does 'minimum government, maximum governance', as the prime minister had promised when a candidate, mean the continual expansion of a state-run airline that drains public funds?