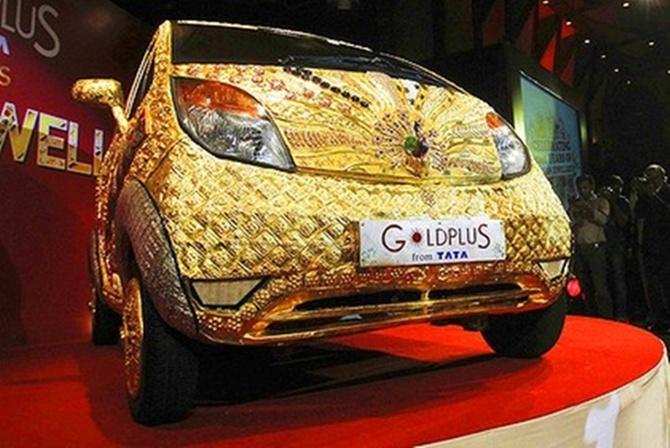 Somebody in the company should have the courage to tell the new boss that it would be a futile exercise as the 'people's car' has tried to don a 'cool' avatar at least thrice in the past with pretty cold results, notes Shyamal Majumdar
A few months after taking over as the Group chief executive officer of Tata Motors in 2010, Carl-Peter Forster had said the company needs to strengthen its capability to deliver high-quality products and to build its brand reputation.
Two years later, his successor Karl Slym said the perception of Tata Motors in the market as a passenger car maker needs to improve and the brand needs an image makeover.
Cut to March, 2016: Guenter Butschek, the new managing director and CEO who has an onerous task of turning around the fortunes of a company that has seen domestic passenger car sales and market share more than halve in the past two years, said in his maiden interaction with the media, "We really need to consider how we position the brand."
The statements of the three CEOs in the past six years suggest pretty much the same thing — that customers still don't know what a Tata car stands for.
This is despite the company's recent efforts to drop its earlier reluctance to regularly churn out new products to keep the excitement going.
Things may finally be changing on that front. Even though the recent Zest sedan and Bolt hatchback (launched in August 2014 and January 2015, respectively) have done little to help revive demand -- domestic sales of Tata Motors cars fell from 352,000 in 2010-11 to around 140,000 in 2015-16 and the company has a share of only 3.5 per cent in a segment that comprises half the passenger car market in India -- the newly launched compact, Tiago, could be a game changer with its initial disruptive pricing that is expected to shake up the small car market.
On the anvil are a next generation SUV, a premium hatch and a premium sedan.
That's good news for Mr Butschek who has made all the right noises so far, except one jarring note -- he has hinted at yet another "next generation" Nano which is expected to do away with the "cheap car" tag.
Somebody in the company should have the courage to tell the new boss that it would be a futile exercise as the "people's car" has tried to don a "cool" avatar at least thrice in the past with pretty cold results.
Three years after its much-hyped launch in 2009, Tata Motors refreshed the Nano, launched Nano Twist in 2014 and then came out with the GenX, which was termed by senior company executives as a make or break moment for the company.
The attempt was to bury the cheapest car tag and also to lure the first-time buyers.
At the end of it all, the Nano remains a cautionary tale of misplaced ambitions and a drag on profit, with sales of 22,138 units in 2015-16 compared to 74,527 in 2011-12.
Despite the relatively better performance of GenX, it now sounds a bit strange that when it was launched in 2009, rating agency Crisil had predicted that the Nano would expand the Indian car market by as much as 65 per cent.
Harvard Business Review was bang on when it said that you have to get a lot of things right to successfully bring a product as novel as the Nano to market.
First, you have to conceive of something people will actually want.
That's really three steps -- thinking up something that's wanted, identifying who actually wants it, and working out the details of how and under what circumstances they will use the product.
You have to devise a way to produce it reliably and profitably at the price those people will pay.
And you need to communicate a clear, targeted value proposition, differentiated from competing offerings.
The Nano has had trouble with just about every one of those steps, HBR said.
So, Mr Butschek would do a great favour to Tata Motors (which is otherwise doing fine with the commercial vehicles business and Jaguar Land Rover, and can hope to cash in on the slew of new car launches in the domestic market), if he can go off the beaten track and think in terms of discontinuing the Nano brand.
He could take heart from the fact that even Ratan Tata's enthusiasm for his creation has dimmed a bit.
Mr Tata had suggested in an interview to CNBC that the Nano be launched in a new avatar in another country like Indonesia, where it doesn't have the "stigma" of being "'the cheapest car".
The reason to discontinue the Nano brand is simple: it is seen as a laggard and it is not easy to reposition a laggard with cosmetic changes. And as they say, ego has no place in business.
Image: Tata Nano Gold Plus. Photograph: Reuters