India's foremost architect and town planner was renowned as much for his 'breathing' spaces as for his irascible personality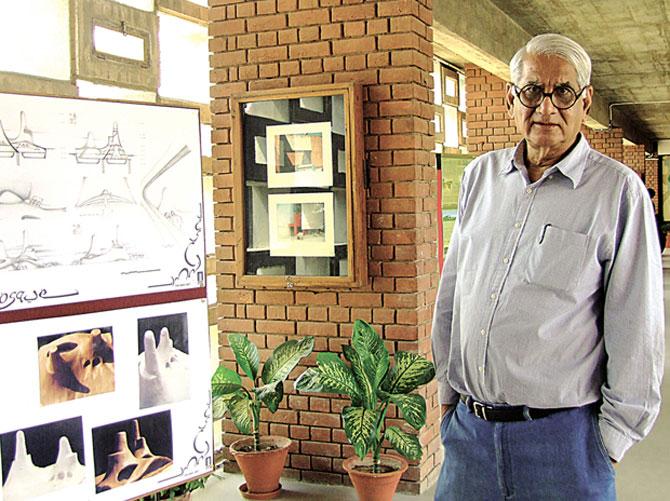 Obituaries can be hagiographic, at least in the immediate aftermath of death, as perhaps they should. But Charles Correa might have preferred candour. He did not suffer fools easily, ticked off people — and his colleagues — frequently, and was a whiz with the cuss words that he used to mortifying effect.
We were never friends, hardly even acquaintances, meriting a mere professional nod, somewhat reluctantly on his part, because he suffered the media with even less grace. On matters of design and town planning, he was implacable, irascible and sometimes unlikeable, yet he was able to develop a very large number of projects for the government because he considered town planning a state subject rather than a private sector domain.
At meetings, he was forceful about speaking his mind, bruising those who thought this learned, erudite and unwittingly sardonic person might be an easy knock over, but for all that he could be surprisingly gentle and gracious.
But, mostly, Correa was a man who loved buildings and cities, not necessarily in that order, despairing at what had become of his native Mumbai (to him it was always Bombay), unmindful of his celebrity, and content to talk about theatre as much as about a recent book he might have spotted at an airport bookshop.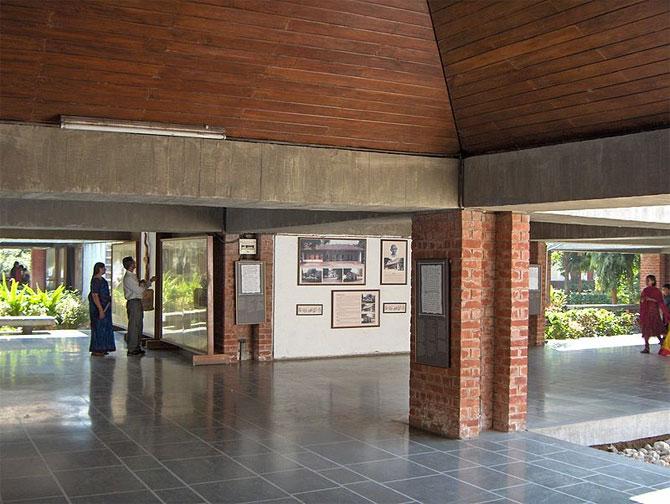 Mahatma Gandhi Memorial, at the Sabarmati Ashram, Ahmedabad. Photograph, courtesy: Nichalp/Wikimedia Commons.
If he designed a building in glittering Manhattan, he also built the spartan Gandhi Ashram in Ahmedabad; if he rooted the architecture of Jaipur's Jawahar Kala Kendra in the nine-grid architecture in which the original city had been laid out, he planned New Delhi's charming National Crafts Museum like a meandering village street and the city's British Council to offer a commonsensical escape in an increasingly chaotic commercial business district.
Security concerns have made the British Council impossible for a mere sightseer to walk through - a pity, since this is a building that should be experienced for people to understand the power of great and good architecture. The deathly silence of the Craft Museum "street", away from the exhibition areas, must have angered him - the unlived look detrimental to its essence as a space that was meant to engage viewers - yet it is one of the most significant architectural interventions in capital city New Delhi, located between a medieval fort that is in ruins and the country's showpiece exhibition complex.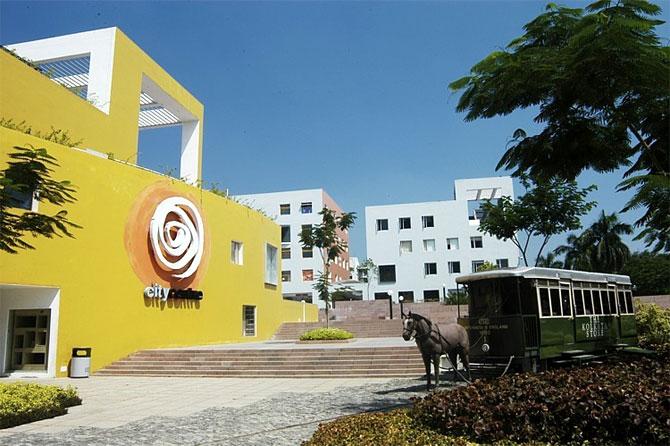 City Centre, Kolkata.
Through it all, one must ask: Is there a definitive, distinctive architectural style to a Charles Correa building? Raj Rewal's work has its strong identity as does that of Joseph Allan Stein, Laurie Baker, his great inspiration Le Corbusier, even Hafeez Contractor. But, without previous information, would you or I be able to recognise a Charles Correa building?
We have a recognisable Steinabad, but is there a possibility of a Correabad? Given their diversity, perhaps not, yet Correa is unparalleled for his "breathing" buildings — a key quality that defines his architecture as it does Stein's, the latter lucky that so many of his commissions were happenstance in the same neighbourhood.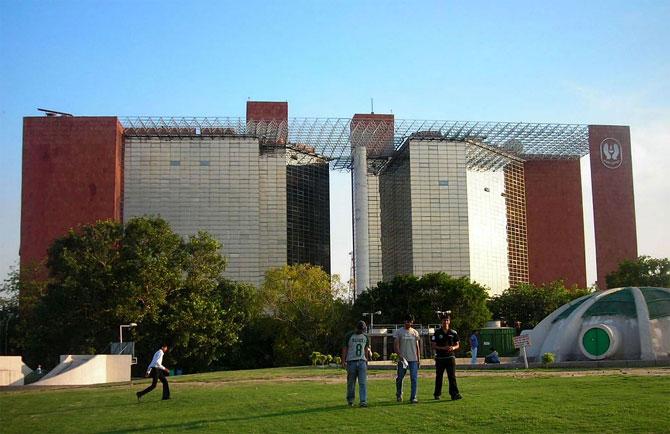 LIC building, at Connaught Place, New Delhi. Photograph, courtesy: Ekabhishek/Wikimedia Commons.
Correa's sense of space offers an escape from the claustrophobia of the street. And, yet, he did not believe in cavernous spaces but preferred those that resulted in a dialogue between the built and the open, the interior and the garden or courtyard. In a sense, he evoked the haveli and the bungalow in everything that he built, with gardens serving as activity piazzas around which he spun his built spaces, at once intimate and engaging.
If this was Indian, or came from the realistic nature of living close to one's roots and functions, then Correa deserved his epiphany as India's definitive architect. Yet, to sum up his practice as merely Indian would be to limit his vernacular, especially since his fame - and work - included projects in Toronto, Boston, New York, Kuala Lumpur, Mauritius, Mexico City, Lima and Doha.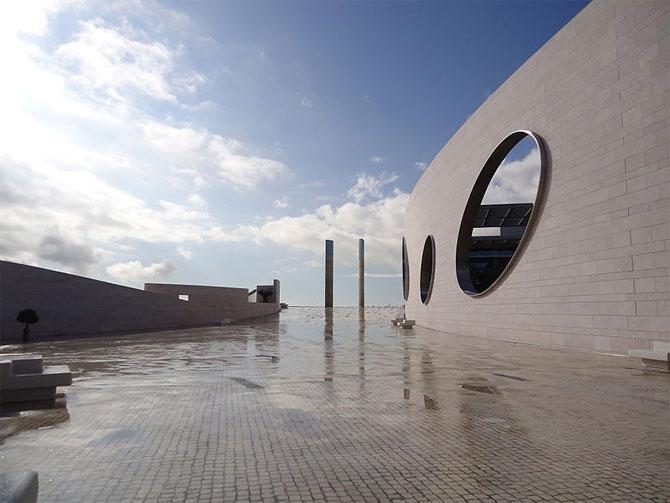 Champalimaud Centre for The Unknown in Lisbon, Portugal. Photograph, courtesy: Carlos Luis M C da Cruz/Wikimedia Commons.
Educated in Mumbai before studying architecture at the University of Michigan and the Massachusetts Institute of Technology, he would return to MIT not just to lecture but also to design its Neuroscience Centre in 2000-05. Yet, it was India's medieval cities that inspired him - whether Fatehpur Sikri or Jaisalmer - for their "open-to-sky" courtyard architecture, something that would remain central to his way of building his own, often monumental city projects.
With the British Council, he might have got lucky with a client that allowed him the luxury of a low-rise building on a high-rise street, but even in New York's Permanent Mission of India to the UN, he was prescient, and there is a remarkable similarity to the buildings, even though one is squat, the other vertical.

On the few occasions we met, always at the India International Centre in New Delhi - a building he admired - Correa would express his anguish at the absence of town planning in India and the negligence with which "energy" was being frittered away in a scenario where "architects have depended more and more on the mechanical engineer to provide light and air within the building.
But in India, we cannot afford to squander resources in this manner". Apropos of nothing, he mentioned - at a time when he was having trouble as head of the Delhi Urban Arts Commission - that he would like to design an airport, even though it was not his area of specialisation.
That wish remained unfulfilled, but Correa did complete some phenomenal projects, among them the Vidhan Bhawan and Bharat Bhawan in Bhopal, Jeevan Bharti's Connaught Circus building that showed how modern architecture could stand out within its colonial surrounding without being gauche (though views on the structure have been mixed), MRF Headquarters in Chennai, the Kovalam Ashok for ITDC (subsequently disinvested) and Cidade de Goa in Goa, as well as housing projects as far as Ahmedabad, Kota, Navi Mumbai, Bengaluru and others.
Some of these received the flak from his peer group as well as the informed. Tara Apartments in New Delhi was criticised for its lack of adequate ventilation and wasteful spread of utilities; Kanchanjunga Apartments in Mumbai, despite being considered iconic, was negatively reviewed on its completion in 1983 for being an eyesore and out of consonance with the city's skyline, a charge that continues to stick. Its Salvacao Church too was similarly reviewed. Correa was defensive about these projects, even though he took care to deflect these criticisms in other developments.
While he was involved in town planning and urbanisation issues on various occasions, principally in Delhi, Mumbai and Navi Mumbai, but also the Cochin waterfront, the lake front in Hyderabad, and the Salt Lake City Centre in Kolkata, it saddened - no, angered - him that governments didn't seem to care much, if at all, about India's urban conglomerates which he said, with vehemence, were "among the greatest cities of the world". That despair was emphasised with a string of invectives in quintessential Correa style.
Charles Correa's photograph, courtesy Business Standard