If the economy is mismanaged, specific policies that try to boost either of them will not work, notes Debashish Basu.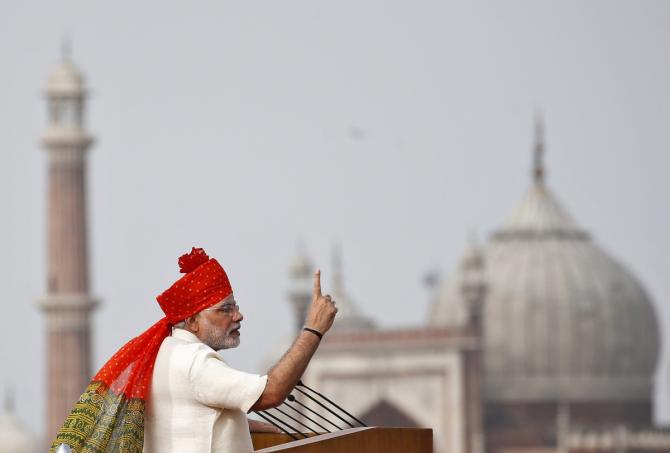 Prime Minister Narendra Modi delivers his first Independence Day speech at Red Fort. Photograph: Reuters
Last Friday, the governor of the Reserve Bank of India (RBI), Raghuram Rajan, fired off another clever but misdirected argument, this time about "Make in India".
A few weeks ago he blamed various businesses and bad laws – but not public sector bankers themselves, or the RBI – for allowing bad loans to balloon.
This time he pointed out that Narendra Modi's "Make in India" campaign should be suitably modified to "Make for India".
His short point was that if the "Make in India" slogan is supposed to mean pursuing export-led growth, that will not be easy because of slow global growth.
"Indeed in the last decade, even as China developed on the back of its exports to industrial countries, other emerging markets flourished as they exported to China.
Emerging markets now have to rely once again on domestic demand."
While this may be correct in a narrow, immediate sense, it is an irrelevant argument from the policy perspective.
Manufacturing for exports or for domestic markets are merely outcomes of the way the government manages the economy.
If the economy is mismanaged, specific policies that try to boost either of them will not work.
Indian businesses need not be told to "Make for India". They will anyway do that. That's their business.
Domestic demand is what they service and all domestic players are operating in the same local cost structure.
If costs rise, they will all try to pass on the costs to buyers and carry on as before.
Indeed the real issue is neither Make in India nor Make for India. It is the cost of doing business.
If that is high, domestic buyers pay too high a price and the market does not expand, depriving businesses of economies of scale, which can push down costs further.
The same high cost of doing business makes exports uncompetitive — whether the global market is conducive to it or not.
So we need to shift the debate beyond this slogan or that, and discuss long-term prescriptions for boosting manufacturing — whether for exports or for domestic demand. The answer to both is the same: lower costs to doing business.
Businesspeople need the freedom to make or service anything easily, anywhere, at a reasonable cost in a competitive environment.
If this happens, Indian business will boom, jobs will be created and exports will rise.
"Reasonable cost at a competitive environment" is almost entirely influenced by macroeconomic decisions. The question is, has the government even acknowledged this and started to move in this direction? The most charitable answer is, we don't know.
Since this government is not exactly reticent, we can even conclude nothing much has happened so far.
We all know that government dominates our lives in every possible way. The result is that the main factors of production are made expensive by the government, making India a high-cost economy.
Take a look at these three issues:
Human resources
India's education system is a mess. India needs millions of skilled workers, coming out of thousands of Industrial Training Institute-type of establishments — not run by the government.
When people come out of college, they are unemployable. They may be repaying a big education loan, too, which has to be built into the compensation, pushing costs up again.
We also need good quality basic education. All these are directly influenced by the government — often by the state government.
There is no game plan to set all this right — while the government is distracted by many irrelevant issues. Skill development is being talked about, but there is little progress.
Real estate
While reams have been written about the problems of the land acquisition Act, this is a problem only for expansion and large new businesses.
A much bigger contribution to high cost of operations comes from the exorbitant cost of real estate in India, relative to its level of development.
Millions of businesses have to buy either a high-cost property or pay high rent, making their products costlier.
There is no game plan to bring down real estate prices, which will be the biggest boost for consumers and businesses alike.
Capital
Foreign companies can bring their capital and large Indian companies have access to lower-cost capital from local and global sources.
But everybody else, including consumers, have to borrow at high rates from Indian banks.
Here, the government is keeping the cost of capital high in two ways.
One, by not insisting that the RBI allow many more banks to come in, which will create competition to supply capital and lower the cost of capital.
Two, by remaining the biggest borrower of capital, setting a benchmark of sorts for high interest rates.
These are mere pointers. There are many other ways the government is making Indian companies uncompetitive.
Without the Modi team making a thorough analysis of this and taking publicly declared corrective steps, "Make in India" or "Make for India" will remain empty slogans.
---
(Debashish Basu is editor of moneylife)