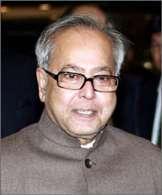 When the Union Finance Minister Pranab
babu
rose to present his budget for 2011-12, he was basically presenting
hisab kitab
of how he was going to spend Rs 12,57,729 crore (Rs 12.57 trillion) during the next year starting on April 1 2011.
Assuming India's population of 115 crore (Rs 1.15 billion), that amount comes to spending Rs 10,937 per head by the Union government.
One way to see if the planned expenditure is prudent is to see if the money is being spent for the basic necessities of the people who are deprived of them.
One major factor here is that two thirds of India still lives in villages and almost all of them depend on agriculture one way or the other.
Now 60 per cent of India's agriculture is rainfed and rainfed farmers and areas have the largest concentration of poorest people.
So one major yard stick to judge the budget would be to see what has the budget done explicitly for the rainfed farmers.
Now if you read through the budget speech of the finance minister and also go through the other budget documents, the words like rain or rainfed that occur just once.
This is when he talks about the allocation of Rs 300 crore (Rs 3 billion) for 60 000 pulses villages for rainfed pulses cultivation.
That is a princely sum of Rs 50 000 for the whole village, around Rs 50 per head and that amount wont come to them as subsidy, but will be spent by the machinery of government to encourage and increase pulses production.
One can argue that even the additional Rs 300 crore each for millets, oilseeds, vegetables, animal protein and fodder will also help poor farmers.
Adding all of that, we see that FM has budgeted Rs 1800 crore (Rs 18 billion) or Rs 16 out of Rs 10,937 available at his disposal for every Indian.
The FM has proposed to spend Rs 400 crore (Rs 4 billion) for extending green revolution in Eastern India. But knowing the state of farming, farmers, soil and agriculture in the traditional green revolution areas of Punjab, Haryana and Western Uttar Pradesh, Eastern India is destined to experience a rather toxic treat.
In stead, if the FM had spent that money in promoting System of Rice Intensification, he would have done a world of good for the yield, soils, environment, food production, food security and most importantly the profitability of small and marginal farmers of Eastern India, including his Bungbhumi.
Similarly, his government spent Rs 49,980 crore (499.80 billion) on promoting chemical fertilisers in 2009-10 and he said in his budget speech that these are leading to deterioration of soil health.
He also said in the budget speech, "the government proposes to promote organic farming methods, combining modern technology with traditional farming practices like green manuring, biological pest control and weed management." But the Mr Mukherjee has allocated zero sum for this!
Talking of Environment, his budget speech actually sounds like death knell for the environment. Right in the beginning of his budget speech, he said, "We have to reconcile legitimate environmental concerns with necessary developmental needs."
Now when environment concerns are getting very little credible attention, and when his government is known more for environment destruction than environment protection, the above quoted sentence is a prescription for environment destruction.
In
reality, he is speaking for the business interests and interests of pushing the growth rate by hook or by crook.
Mr Mukhkerjee should know that destruction of the environment affects the poor the most and his attempt to say that for development environment destruction is required, is a suggestion that poor can go and suffer.
Even if we look at actual allocations, he has allocated Rs 200 crore (Rs 2 billion) each for cleaning of rivers/ lake, Green India Mission and for unspecified "environmental remediation programmes" in the name of environment protection.
Putting that together comes to Rs 5 out of the Rs 10,937 that Mr Mukherjee has per every Indian.
Mr Mukherjee would jump to say that but he is spending Rs 1,60,887 crore (Rs 1.60 billion) on social sector spending, including Rs 58,000 crore (Rs 580 billion) on Bharat Nirman and Rs 52,000 crore (Rs 520 billion) on education.
But these are all going in heavily leaking buckets, Sir. To illustrate, his government spends around Rs 10,000 crore (Rs 100 billion) each year on Accelerated Irrigation Benefits Programme under the Bharat Nirman, mostly on Major and medium irrigation projects.
But as now the mid term appraisal of the 11th Plan has corroborated earlier research of SANDRP, the net irrigated areas by such projects have only declined in last 16 years instead of showing any increase, after spending over Rs 1,50,000 crore (Rs 1.50 billion) in the period.
Now the latest audit of the Comptroller and Auditor general has also exposed the fictional claims of the AIBP.
The trouble is, the Finance Minister has failed to do anything about effectiveness of expenditure that he is allocating.
As NAC member N C Saxena recently said, unfortunately in India, expenditure itself is assumed to be sufficient to bring development.
The FM should know that expenditure itself cannot bring development. But he has done absolutely nothing to plug the leaking expenditure.
Another way to describe such leaking expenditure is corruption or what his Economic Survey and also earlier Prime Minister and Home Minister called the governance and ethical deficit in the functioning of the UPA government.
The Finance Minister had an opportunity to plug the leaks and thus bridge that deficit, but he has refused to address this for the scam tainted government he is part of.
But the FM has limited himself to making some rather doubtful efforts at bridging the fiscal and revenue deficits.
The efforts seem doubtful, because the oil prices that are bound to rise would completely disturb his provisions for these subsidies.
Besides the corruption, the second biggest anti poor phenomena of our days is inflation and here again he has shown no commitment.
Coming out of the Parliament, Mr Mukherjee hoped that the agriculture growth rate of 5.4 per cent in 2010-11 and the incentives in his budget will address the supply side constraints.
But the trouble is, he did not say that agriculture production in 2010-11 is below the production of 2008-09 in almost every single item, except the possibility of pulses and cotton.
So in reality there is no growth and we have already seen above that his tokenist allocation for pulses etc are not going to really help.
So it may sound rather harsh, but the budget has no human face and it seems like an exercise in disservice to the common man of India.
Himanshu Thakkar is Coordinator of the South Asia Network on Dams, Rivers & People.