How can brands reach consumers who travel on multiple roads of discovery?
This will be the challenge of the future, says brand guru Ambi Parameswaran.
Illustration: Uttam Ghosh/Rediff.com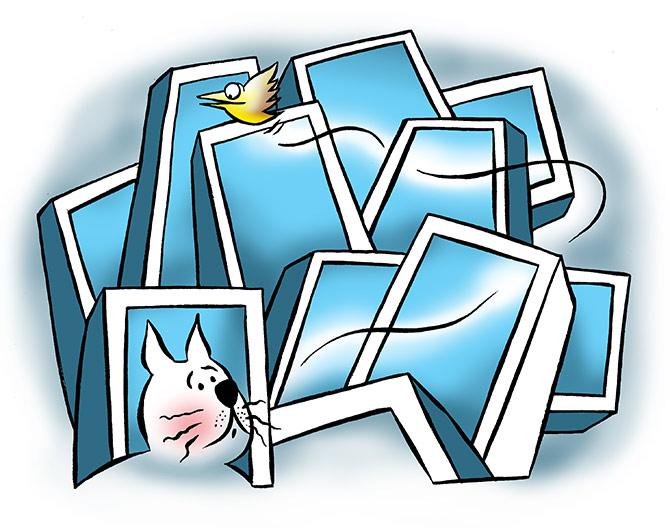 Brand building tools were pretty simple in the India of the 1950s, 1960s and 1970s.
You made an ad film and ran it in movie theatres for a year or two.
The print ads ran in magazines for months unchanged.
All this was transformed when television became an important medium.
In the early 1980s I remember discussing the difference between television and cinema advertising with the leading ad makers of that time.
It looks obvious now, but most brands ran the same ad that they ran in cinema on television screens.
A few agencies were experimenting with multiple ad formats and I was lucky to be working in one of them.
When quizzed about the difference between making an ad for cinema versus making one for TV, the film-makers explained that the medium of television is watched at home, it is a black and white medium (till the Asian Games of 1982), the screen is small -- 20 inches or a little more -- the audio quality suspect and, most importantly, you get to reach the same audience every week or every day, unlike cinema.
The realisation of the differences in the medium of TV and cinema created a whole new genre of advertising.
Stories became shorter and were told with tight close-ups and dialogues.
Multiple ad formats evolved quickly.
Panoramic shots were reduced.
Indian brands managed to transition from the age of audio-visual advertising, which was large screen on cinema, to one that was small screen at home.
Interestingly, with large format TVs gaining ground, panoramic ad films are making a comeback.
Today, we are at yet another transition point.
Brand-building has to learn how to transition from TV to a much smaller screen, the mobile.
Some numbers to show the dramatic change in media consumption.
Total print readership in India is probably touching 190 million (we need to wait for the latest Indian Readership Survey to corroborate my extrapolation of the 2014 numbers).
Television viewership has gone to 780 million, as per the BARC (Broadcast Audience Research Council) report.
Around 183 million homes have TV sets as against the total household population of around 280 million.
As against these numbers, in a remarkably short time, the number of unique mobile subscribers has touched 615 million (in 2015) and is expected to cross 915 million by 2020.
Smartphone usage is expected to go from 238 million in 2015 to 688 million in 2020, according to the GSMA report.
Just as the writing on the wall in the mid 1980s was clear that brand builders need to learn new tricks to use the television medium, the writing on the wall, this time a smaller one, is that if you are not getting on to the mobile bandwagon, you are going to miss some important calls.
It is probably not fair to equate the mobile tsunami to the television storm we faced three decades ago.
But there are some interesting parallels.
Imagine, if in the future, all your consumers watch their audio-visual content on their small mobile screen.
Will you need to make the content differently?
Will story-telling be different?
Will the casting requirements be different?
Will you be able to deliver longer-format content to those who consent to watch useful content?
Or take delivery of print. It may not all be on paper in the 2020s. (I am sure paper will continue to be used, but chances are that even big print titles may be consumed by a larger audience on their mobile devices).
What should brands do to reconfigure their messages to the digital publishing medium?
Will formats change?
Will the content be more interactive?
Finally, mobile Internet provides a great opportunity for brands to target messages to select audiences, and not broadcast simple stories.
Words such as 'context', 'personalisation', 'hyper-localisation', 'near field communication technology' will enter popular lexicon.
Adweek, in its article on 'mobile first' marketing says, 'Brands that don't understand how to contextually target consumers based on their interests or demographics increasingly will begin to appear out of touch with people who they are trying to reach.'
Agencies, and I suppose clients, are cautioned about the need to focus more on the crossover between IT, product development and marketing.
Content has to be right, targeted right and delivered in the right environment.
Experts also point out that consumers will tend to blend their experiences moving from one device to another.
We are already seeing consumers having multiple screens open when consuming television.
What we used to see as a consumer decision journey is now going to get a lot more fragmented, into mini journeys across multiple paths.
How clever are brands in making sure they are able to reach consumers as they travel on multiple roads of discovery is going to be the challenge of the future.
Unfortunately, it is not as simple as it was in the past.
Going 'mobile first' is not just about making films that play better on the small screen.
Brands will have to learn to blend various skills in order to engage better with consumers and prospective buyers.
The late media guru, Marshall McLuhan, categorised media as 'hot' and 'cold', I wonder what he would call the new blend of media; 'shaken and stirred' seems to be an interesting definition.
Today's young mobile-first consumers may think that is gross trivialising of their lifeline to the world.
Ambi Parmeswaran is a brand strategist, author and founder of Brand-Building.com