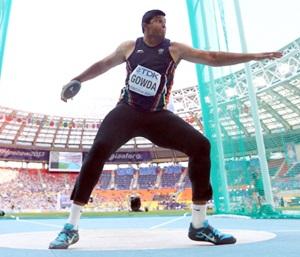 India's Vikas Gowda settled for seventh place in the men's discus throw at the 14th IAAF World Athletics Championships in Moscow on Tuesday.
The Asian champion and National record holder hurled the discus to 64.03 metres in his fourth attempt.
He had cleared 64.90m at the Asian Championships in Pune last month.
The United States-based Indian's scores read: 63.41m, foul throw, 62.20m, 64.03m, 63.67 and 63.64m.
His national record stands at 66.28 metres.
2012 London Olympics champion Robert Harting of Germany won his third World Championships title on the trot with a best throw of 69.11m to continue his domination on the world stage.
Piotr Malachowsky of Poland was second with a best throw of 68.36m while 2008 Beijing Olympics gold winner Gerd Kanter of Estonia took third place with 65.19m.
Image: Vikas Gowda