Hurt by the absence of an injured Sunil Chhetri in the ongoing I-League, Mohun Bagan, on Monday, shot off a letter to the AIFF seeking an investigation to the striker's participation in the SAFF Championship final which, the club claimed, aggravated his ankle injury.
The club also asked for compensation from the national federation as they were missing out on the AIFF Player of the Year in the ongoing I-League.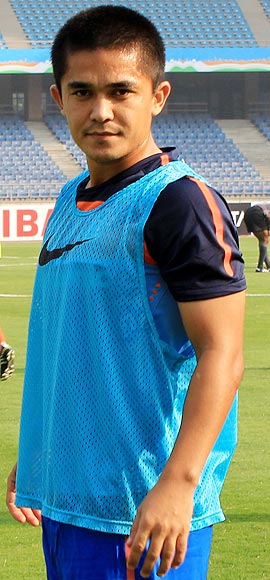 "Sunil (Chhetri) was injured during the semi-final match and he should not have been fielded at all for the final match. However, no discretion was exercised by the team management of the national side, which aggravated his injury to such an extent that he is ruled out of action for about 6 to 8 weeks," Mohun Bagan managing director Anjan Mitra wrote in the letter.
Chhetri is nursing a Grade 2 ligament tear on his left ankle.
"You are requested to please look into the matter and take appropriate and suitable action against those responsible for this incident. Please also let us know how AIFF plans to compensate the Club for such a loss," the letter said.
Placed fourth in the standings after 11 matches, it said Chhetri's absence was hurting their I-League campaign.
"Chhetri was in great form during the SAFF Championship which India won and he was the highest goalscorer. Being deprived of his services at this critical juncture of the I-League is a huge blow to us," it added.
Mohun Bagan take on Air India in their round 12 round I-League fixture here on December 28.