The 'Indian Express' duo of Leander Paes and Mahesh Bhupathi will split again at the end of this season and not compete together in the season-opening Chennai Open early next year, sources in Chennai said on Thursday.
"Paes and Bhupathi have decided to part ways at the end of this season. And Bhupathi would be pairing with Rohan Bopanna at the Chennai Open," informed M A Alagappan, president of Tamil Nadu Tennis Association.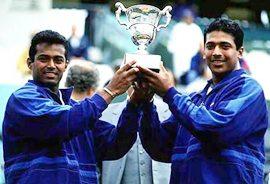 Paes was to partner Radek Stepanek, but the latter has not yet confirmed his entry to the tournament so far, added Alagappan, who is also the Organising Committee Chairman of the Chennai Open.
Thus, it is likely that Paes will either skip the event or pair with someone else.
Paes and Bhupathi won the doubles title at the 2011 Chennai Open, defeating the Dutch-American pair of Robin Hasse and David Martin in the final.
Nearly a year after the pair got together after nine years, there was intense speculation that they may part ways again.
Paes and Bhupathi are the most successful Indian tennis doubles players with 23 Grand Slams between them.
In 1999, the duo reached the final of all four Grand Slams, winning Wimbledon and the French Open, thus becoming the first Indian pair to win a doubles event at a Grand Slam.
Together they have won three major titles; only the Australian Open has eluded them as a pair.