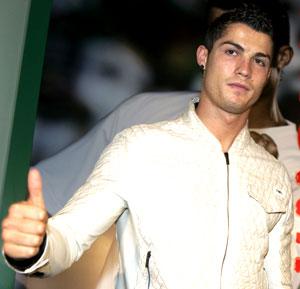 The mother of Cristiano Ronaldo's baby boy is a penniless American waitress, who had a one-night stand with the footballer, it has emerged.
According to a friend, last summer, on a trip to Los Angeles, Ronaldo strutted into a restaurant and spotted a woman.
"Ronni looked the girl in the eye and said extremely directly: 'Me, you, f*** f***,'" the Mirror quoted the friend as saying.
"She was taken aback and just said: 'What!' She didn't actually understand what he meant. She was totally nonplussed
"The window by his table was steamed up, so he drew a love heart on it with his finger. Then he said, 'Me, you, kiss,' and the penny dropped.
"That's typical Ronni -- he pretends his English is terrible when it suits him, and he comes straight to the point. It was just yet another one-night stand and Ronnie assumed he would never see her again," the friend added.
However, after finding out she was pregnant, and convinced that Ronaldo was the father, the woman tracked him down through his agent, Jorge Mendes.
Mendes told Ronaldo, who immediately told his mother Dolores, 55, and sisters Elma, 34, and 33-year-old Liliana Catia.
It was agreed that Ronaldo would give DNA for a paternity test once the baby was born and provide support for the mother and child if it proved to be his.
The friend said: "Ronni is a multi-millionaire playboy, but when it comes to family, he's very much his mother's son.
"They are a close-knit, traditional ­Roman Catholic family and the minute paternity was established there was absolutely no doubt that Ronni would be doing the right thing.
"There was simply no question of him walking away. Even if he had wanted to, Dolores just would not have entertained it for one moment.
"This is her grandchild and there was only one option for the child's upbringing -- with her and her daughters in Portugal. The child's mother would be properly provided for to enable her to live a life in keeping with the upbringing the child will have.
"Ronni has not decided whether to involve the mother in his son's life. He thinks he might tell him who she is. 
"Dolores's view is that if the child eventually decides to make contact with the mother, it is important she is living an affluent lifestyle," the friend added.