Two-time Olympic champion fencer Mariel Zagunis was selected on Wednesday as the flag-bearer to lead the 529-member US team at Friday's opening ceremony of the London Games.
Zagunis, who became the first American fencer in 100 years to win a gold medal when she triumphed at the 2004 Athens Games, was selected as flag-bearer in a vote by fellow members of the US Olympic team.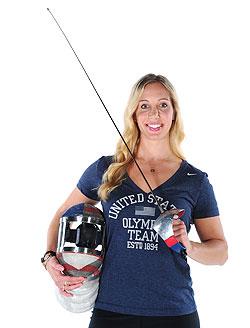 "As an athlete, I can't imagine a higher honour than to lead Team USA into the Olympic Games, which are the pinnacle of sport and a platform for world peace," Zagunis said in a statement released by the United States Olympic Committee.
"I am tremendously proud to represent my sport, our team and, most importantly, the United States of America."
The world's top-ranked women's sabre fencer defended her Olympic crown at the 2008 Beijing Games and won individual world championship titles in 2009 and 2010.
She becomes the third fencer to serve as US flag-bearer and the first since Janice Lee Romary in 1968.
Zagunis was chosen over a number of possible high-profile candidates that included Kobe Bryant and LeBron James of the men's basketball team.
Photograph: Harry How / Getty Images for USOC