Olympics bronze medal-winning Indian Wrestler Yogeshwar Dutt feels if not for a tough draw he could have returned home with a gold medal from the just-concluded London Games.
After two failed attempts, lady luck finally smiled on Yogeshwar as he won the bronze medal in the 60kg freestyle men's wrestling competition in the London Games.
"I was always confident that I will win a medal in London. I wanted to win gold and was confident also but I got a tough draw. It's not an excuse but a lot depends on draw," Yogeshwar told reporters during a felicitation programme organised by the Mittal Champions Trust.
"In the pre-quarter finals I played against the Russian wrestler (Besik Kudukhov) who won the silver medal. He is a four-time world champion and a bronze medallist from the Beijing Olympics," he said.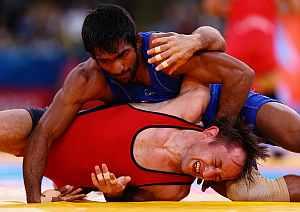 "After losing to the Russian, I knew I will get one more chance because I was confident that he will reach the final," the grappler added.
Despite the bronze, Yogeshwar has already set his eyes on the next target.
"I am 29 now, there are still 4 years to go for the next Olympics. If I can mantain my fitness I will definitely go for gold in Rio, but before that my target is 2014 Asian Games," he said.
"I will soon start training for 2016. Wrestling is our ancient sport and I hope we can increase our medals tally in wrestling in the next Olympics," Yogeshwar added.