Beijing Olympic gold medalist Abhinav Bindra was the first Indian shooter to enter the London Olympics Games Village along with the 10-member archery squad and a four-member weightlifting squad.
The archers and lifters enterred the village first while Bindra joined them a little later on Monday.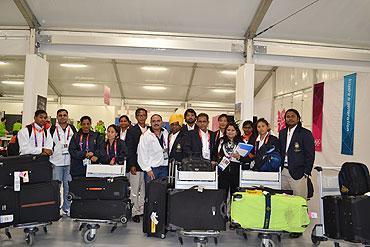 "They have settled down and are looking forward to carry out their workouts at the training venues," Brigadier P K Muralidharan Raja, Deputy Chef de Mission of the Indian contingent, said.
The sprawling Games village consists of 2,818 townhouses and apartments that can accommodate 15,000 residents.
The Indian contingent of 81 athletes and 51 officials have been provided accommodation in the Seaside Building S1, named 'Titan'.
The organisers have arranged for volunteers for each contingent. The Indian contingent has seven volunteers, all Indian by origin but working in the UK.
The official welcome ceremony for the Indian contingent is scheduled to be held at the Games Village on Sunday.
The Indian delegation had requested the organisers to consider a change of date to July 22 but the ceremony could not be re-scheduled as there is no time slot available.
Image: A group photograph of the Indian archery and weightlifting team immediately on arrival at the Games Village, alongwith Brig PKM Raja, Dy Chef de Mission and Ms Nazima Khan, Project Officer, Indian Olympic Association.