American swimmer Ryan Lochte made the biggest splash of the London Games so far by obliterating his compatriot Michael Phelps, the greatest swimmer in Olympic history, in the first of their eagerly awaited duels.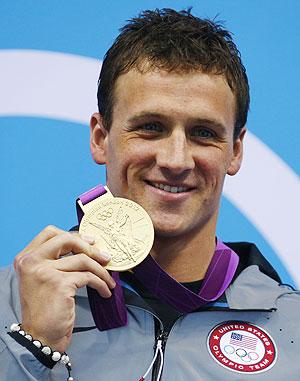 Phelps, unthinkably, finished without a medal in the 400 metres individual medley -- a fate shared in the men's road race by British favourite and world champion Mark Cavendish, outmanoeuvred and upstaged in his quest for the home nation's first gold by Kazakhstan's Alexandre Vinokourov.
- Korean swimmer Park wins appeal but loses title
Sun Yang powered to China's first male swimming gold in the 400 metres freestyle and his 16-year-old compatriot Ye Shiwen won the women's 400m individual medley in a stunning world record time, putting China top of the medals table on the first full day of competition.
Phelps is bidding in London to become the most prolific Olympic medal winner in history, but may be yielding the position of world's best swimmer to Lochte after coming only fourth in the 400m individual medley, where Phelps set the current world record in 2008.
Having scraped into the final by 0.07 seconds, Phelps looked way off the pace as Lochte's silky power brought him home with time to spare. Phelps missed out on a medal at the Olympics for the first time since he was a 15-year-old at Sydney in 2000.
Photograph: David Gray / Reuters