Istanbul were spared a grilling on Wednesday over protests which have rocked Turkey when the three candidates to host the 2020 Olympics presented their cases to the International Olympic Committee (IOC).
Istanbul, Madrid and Tokyo were given 90 minutes to pitch their bids behind closed doors to the 86 IOC members present.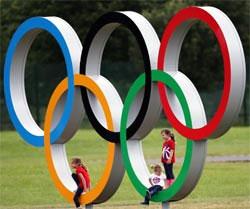 FIFA president Sepp Blatter was among the 14 who missed the meeting, the IOC said. The winning city will be chosen in Buenos Aires on September 7.
None of the candidates gave much away about how their presentations had gone, pointing out they were confidential, although Turkey's Deputy Prime Minister Ali Babacan confirmed that Istanbul had not been forced to talk about protests.
"I did speak about the protests but there were no questions about the protests," he told reporters.
Istanbul concentrated on its economic strength, pointing out that much of the infrastructure for the games would be in place well before 2020.
Babacan said that Turkey planned to invest $400 billion in infrastructure over the next seven years and the Olympic Games represented less than 1 percent of that total.
Madrid is putting itself forward as a safe bet, arguing that it already has most of the facilities in place following two previous bids for the games.
Although Spain has been suffering from a long-running recession with unemployment at 27 percent, Madrid's presentation ended earlier than scheduled and they faced only five questions and none about the economy.
"There were no questions about the economic situation of Spain, the country has more confidence and more credibility than before," said Alejandro Blanco, president of Madrid 2020.
"Choosing Madrid is anything but a financial risk. It is a safe choice because the city is already prepared," added Luis de Guindos, the Minister of the Economy and Competitiveness.
Tokyo, is also trumping its own bid as a "safe choice" and a chance to recover following a deadly earthquake and nuclear disaster two years ago.
"There's no doubt that, compared with the bid for 2016, the big difference is the support from the citizens of Tokyo, " Deputy Prime Minister Taro Aso told reporters.
IOC spokesman Mark Adams said that the session was in addition to several public presentations the bidders were making during in the run-up to the vote.
"The idea was that today was it would be in camera so members could maybe ask questions that were maybe uncomfortable," he told reporters.
"We're doing something extra. They have done several briefings open to the media and we wanted one meeting where we could discuss technical issues."