An Israeli international with Dutch club Vitesse Arnhem has been refused permission to attend a training camp in the United Arab Emirates, the club said on Monday.
The first team squad arrived in Abu Dhabi on Sunday but defender Dan Mori stayed behind to train with the reserves.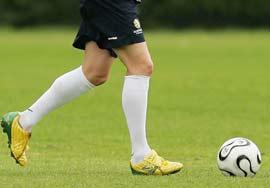 Dutch politicians said the club's decision to go ahead with the visit was "cowardly", according to media reports.
"We are playing against clubs who are banking on us coming and we want to prepare ourselves properly for the second half of the season," Vitesse spokesman Esther Bal told Dutch Radio One on Monday.
"Organisers had (previously) assured us Mori would be allowed to enter the country," Bal added before saying that cancelling the trip was not an option.
The Dutch FA (KNVB) said it would not be getting involved in the row. "It's a political question," a spokesman told reporters.
Israeli tennis player Shahar Peer was also refused permission to compete in a tournament in the UAE in 2009.
Surprise packages Vitesse are second in the Dutch championship, on the same points as leaders Ajax Amsterdam. The league resumes after a winter break on the weekend of January 17-19.
Mori, 25, joined the club from Bnei Yehuda Tel Aviv in 2012.