Pune FC rode on to Shanmugham Venkatesh's 71st minute strike to win their I-League season-opening match against ONGC FC 3-2, after surviving 15-odd anxious minutes when they were reduced to ten men, at the Balewadi Sports Complex stadium in Pune, on Monday.
Venkatesh, who captained Pune FC in their debut season, combined with skipper Douhou Pierre on the left as the two exchanged the ball twice before he lobbed it into the right top corner of the post, leaving ONGC custodian Prosenjit Ghosh flabbergasted.
But for that goal, it was ONGC which took the game to the Pune FC half on changing ends as the visitors evened out a 0-2 deficit though Katsumi Yusa's 30-yard wonder.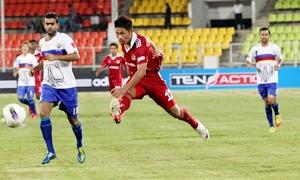 Pune FC had taken lead through Jeje Lalpekhlua's spot-kick in the 22nd minute before Subhash Singh collected a long ball from the left and fired home from the top of the box to put Pune FC 2-0 ahead in the 48th minute.
But the home team's celebrations were short-lived as ONGC made a gutsy comeback, first through Jatin Singh Bisht, who deflected the ball on a minus from Mumtaz Akhter, and then Katsumi, who equalized with a great shot from 30 yards.
In injury time, Pune had a scare when the ball hit the crosspiece and goalkeeper Shahinlal Meloly failed to collect it. Luckily, the ONGC strikers were not in position to guide the unattended ball into the net.
Earlier, Pune FC clearly controlled the match, but for a few patches of defensive lapses that saw the ONGC sneak into the home team's box.