Formula One team boss Ross Brawn has advised world champion Jenson Button that he would do best to stay with him next season rather than jumping to rivals McLaren.
"Negotiations (with Button) are continuing and the reports that he has already agreed terms with McLaren are not helpful," he told the Independent newspaper on Wednesday. "I would be amazed if that were the case.
"His best future is with our team, where he has a good group around him, and there's a lot to be said for that.
"The logical thing would be for him to stay with us, but of course logic doesn't always prevail."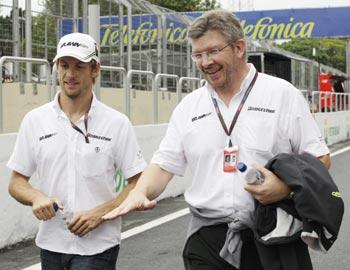 The paper said Brawn last spoke to the 29-year-old Briton at the weekend, after he had toured the McLaren factory with his manager.
The driver, who is out of contract with Brawn and wants a significant pay rise, has since had further discussions with McLaren who are said to have offered him a three-year deal worth at least six million pounds a year.
Although the Guardian newspaper reported on Tuesday that Button had agreed terms with McLaren, the team would not confirm that.
If Button were to join McLaren, he would almost double his current salary and partner compatriot Lewis Hamilton in all-British line-up of world champions.
However he would also be stepping into a team that the 24-year-old Hamilton has made his own, having been nurtured by McLaren for more than a decade.
TOUGH PARTNER
Hamilton has already seen off one world champion team mate, Spain's Fernando Alonso, and would be a tough partner for Button even if the team assured them equal status.
"In the past they (McLaren) have had a history of really being able to only fully support one driver," former McLaren racer Martin Brundle told BBC radio on Tuesday.
"It's Lewis Hamilton's patch, it's his territory and he's made it his own. He knows everybody and knows where all the green buttons are to press.
"Whereas at Brawn, he (Button) is the king of the castle and they will all be fully behind him. But we don't know all the details, we don't know why Jenson would absolutely want to leave Brawn," he added.
"You wouldn't turn a McLaren drive down, would you? And I think Mercedes moving out of McLaren will be disruptive for both teams in some respects. I think generally the feeling of many is that Jenson ought to stick with what he knows."
Brawn will be renamed Mercedes Grand Prix next season after the German carmaker, who were McLaren's co-owners, announced they had bought a majority stake in the team. Germany's Nico Rosberg is expected to be their other driver.
Veteran commentator Murray Walker said Button should definitely stay where he was.
"I don't think it's the right move from his point of view, except financially," he said. "To be thoroughly provocative, I'm not sure that Button could keep up with Lewis Hamilton in the McLaren."