Netherlands players heard monkey chants from the crowd at a Euro 2012 training session at Wisla Krakow's stadium, a team spokeswoman said on Friday, casting a shadow over what had been a near carnival atmosphere.
Coach Bert van Marwijk, Dutch officials and assembled press did not hear any racist abuse during Wednesday's session but it has since emerged that a handful of the squad did.
"Some players did hear some monkey noises. That is why they moved to the other side of the pitch," the spokeswoman said.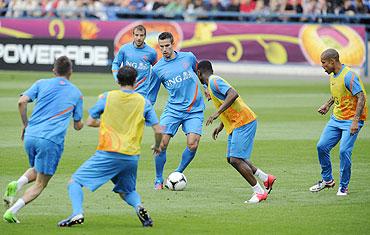 Immediately after Wednesday's session, Van Marwijk had told reporters the atmosphere was fantastic with over 30,000 Poles turning up just to watch training.
Krakow is not staging any matches.
The build-up to the tournament being co-hosted by Poland and Ukraine was dominated by worries about racism among home fans.
UEFA president Michel Platini, under pressure after boldly handing the tournament to the two countries, said players should let the referee handle racist abuse after some players indicated they would walk off the pitch if it occurred in matches.
The Polish and Ukrainian governments have worked hard to try to dispel any fears of racism but a BBC documentary suggested it was prevalent among certain fan groups.
World Cup runners-up Netherlands, who have a number of black players, open their Euro 2012 Group B campaign against Denmark in Ukraine's Kharkiv on Saturday.
Pawel Ulatowski / Reuters