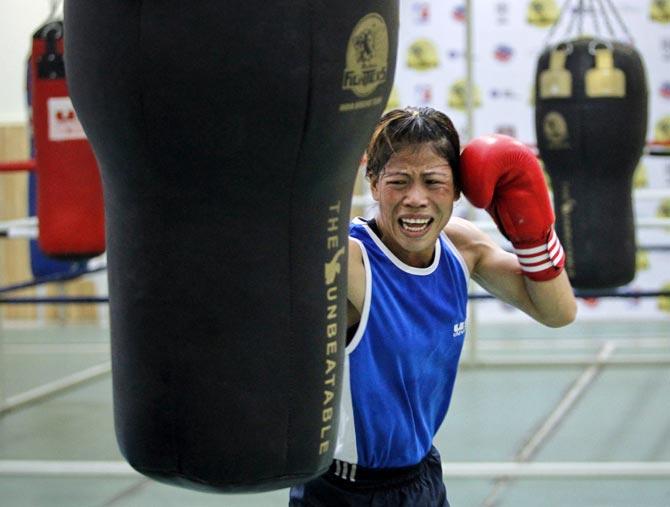 IMAGE: M C Mary Kom during a training session. Photograph: Danish Siddiqui/Reuters
Out of competitive action for over a year, five-time world champion M C Mary Kom will return to the ring in an invitational tournament to be held in Mongolia next month.

Mary Kom, an Olympic bronze-medallist, will compete in the 51kg category at the tournament scheduled from June 20 to 26.

"I have returned to 48kg but in this tournament I will fight in the 51kg category because I need some practice after year a away from competition. However, I wil be preparing myself in the 48kg cetagory for the Asian Championships in November," Mary Kom said on Monday.

The celebrated boxer decided to return to the light flyweight last year after the Commonwealth Games organisers decided to introduce the category in the 2018 Gold Coast edition.

Mary's last world title, in the 2010 Barbados edition, had come in the 48kg category, while four others had been achieved in pinweight (46kg)
prior to that.
She had jumped to flyweight 51kg after it was included in the 2012 Olympic Games. The Manipuri went on to win the bronze medal in the Games, besides claiming a gold in the 2014 Asian Games where women's boxing made its debut.
"I have been training hard for the last six months and I decided to trial for this tournament because I wanted to test myself. Since 48kg was not a part of the schedule in Mongolia, I decided to compete in 51kg," she said.
"But it is 48kg which will be my focus once I am back from Mongolia," she added.
Mary has not competed since last year's World Championships, where she lost in the second round and missed qualification for the Rio Olympics.
Priyanka Chaudhary (60kg) and Kalawanti (75kg) are the other members of the three-strong women's team.
A mixed Indian team will also be travelling for an invitational tournament in Kazakhstan in July. The team for Kazakhstan comprises four men and three women.
The men's team features national champion Deepak Singh (52kg), Devanshu (81kg) Gaurav Chauhan (91kg) and Parveen Kumar (+91kg).
The women's team includes, Nation's Cup gold-medallist Neeraj (51kg), and new entrants Siwi Boora (60kg) and Lovelina (75kg).