Salgaocar's Karim Bencherifa was, on Friday, offered a year's contract to become coach of the Indian football team but is unlikely to take up the job.
His club made it clear that it will not release him for the national assignment.
A day after Bencherifa guided Salgaocar to their first Federation Cup title after a gap of 14 years, the All India Football Federation offered him a one-year contract to become coach, which could be extended by another year depending on the performance of the national team.
However, Salgaocar president Shivanand Salgaocar said the club will not release Bencherifa, as he has nearly two years left in his contract and the Goan side is aiming to do well in the continental tournaments, including the AFC Cup.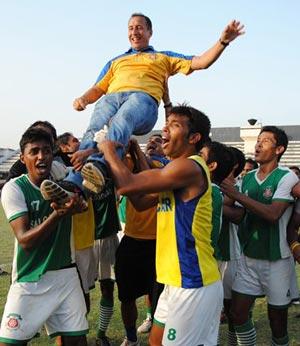 "There is no question of releasing Bencherifa. He has nearly two years left in his contract. We made him coach with long-term goals and my club does not make stop-gap arrangements that the coach will go midway during his contract," Salgaocar said.
"We have some goals this season. We want to do well in the AFC Cup and we will also have a shot in qualifying for the AFC Champions League. So we have made him coach in view of all these aims in mind. We don't believe in changing horses midstream," he added.
As I-League champions, Salgaocar will play in the AFC Cup, Asia's second tier club competition. They will also get a chance to qualify for Asia's top-tier club competition, the AFC Champions League, as the I-League champions feature in a play-off round to book a berth.
After he guided Salgaocar to a rare double by an Indian club of winning the I-League and Federation Cup in a calendar year, the AIFF, at its emergency committee meeting in Kolkata on Thursday, decided to offer Bencherifa a one-year contract on condition that he is released by his club.
"We have decided on Karim Bencherifa to coach India. But it won't be justified taking him as coach unless Salgaocar release him," AIFF General Secretary Kushal Das told reporters in Kolkata, earlier on Friday.
He said Bencherifa has expressed his interest to coach India but since he has a contract with Salgaocar the ball is in the court of the Goan club.
"Salgaocar are a part of AIFF family. So Bencherifa too is a part of AIFF. We have to talk to (the club owner) Mr Shivanand Salgaocar. If he agrees, Karim will be India coach," Das said.
Shivanand Salgaocar also said that he does not think Bencherifa would walk out of the contract and pay compensation to the club.
"Bencherifa is a gentleman and every coach has a reputation with him. I don't think that he would just walk out of the contractual obligations," he said.
The current vacancy has arisen after Dempo's Armando Colaco turned down a one-year contract offered by the AIFF after his four-month stint with the national side ended on Friday.
Colaco served as India coach without being released by Dempo, of which he is also the club's secretary, but the AIFF said Bencherifa will have to leave Salgaocar if he has to take up the national job.
The Moroccan has his contract with Salgaocar running till the end of the 2013 season.
Bencherifa himself had expressed his desire to take up the India coach's job but hinted that he would be able to do so only after he is released by his club.
"My fate is not in my hands. So I don't want to be unfair to them (Salgaocar). I don't want to be unfair with AIFF also. So let things happen. I will have to talk it out with Salgaocar chairman and AIFF," Bencherifa had said after guiding Salgaocar to a 3-1 victory over East Bengal in the Federation Cup final.