The 165 seats the BJP may NOT win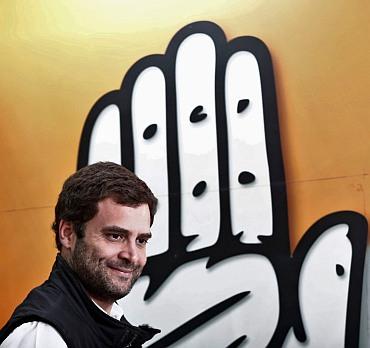 Given the alleged Modi wave in the country, poll pundits have all but written the Congress off for the 2014 Lok Sabha elections.
But can you really write off the Congress until the last vote is counted? We analysed news data to find the constituencies that are focus areas for the grand old party.
We tracked Congress vice president Rahul Gandhi's campaigning movements across India by analysing news reports from over 30,000 news outlets. In these news reports we looked for co-occurence of the name "Rahul" and a location name. If the location matched a Lok Sabha constituency, we concluded that Rahul Gandhi either visited this place or that this place was a focus area for Congress campaigns. From this analysis emerged 165 constituencies where Congress could give BJP a run for its money. This data is visualised on the interactive map above.
Click here to see the list of seats
Do you think the Congress will prove a challenging opponent for the BJP? Which constituencies do you think Congress will win? Tell us in the message boards below ...
Special Coverage: Election 2014
CREDITS: Rediff Labs Team