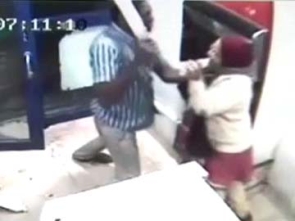 A woman attacked with a machete in broad daylight at an ATM in Bangalore on Tuesday is battling for life. Doctors say that the woman underwent a brain surgery last night and has suffered a skull fracture.
No arrests have been made in the incident that occurred on Tuesday in the morning.
The 38-year-old bank official was attacked with a machete by a man who fled, leaving her in a pool of blood.
As the woman entered the unguarded ATM kiosk to withdraw money before proceeding to her office for the morning shift, the assailant, carrying a shoulder bag, closely followed her inside and pulled down the shutter before threatening and attacking her, the police said.
Gripped by shock as she saw the intruder, the victim raised an alarm but was threatened not to do so by the assailant who then took out what looked like a pistol from his bag, as seen in the CCTV footage and later shoved her down and hit her repeatedly with a machete as she resisted.
After the gory attack, the footage showed, the attacker cleaning the machete of blood with the woman's napkin, taking away her phone and leaving the kiosk after pulling down the rolling shutter, the police said.
The woman was lying in pool of blood for a long time and the incident came to light when two school children raised an alarm seeing blood coming out the kiosk from under the shutters, the police said. She was taken to nearby government-run Victoria Hospital with injuries on head and face by a traffic policeman and later shifted to BGS Global Hospital.
Bangalore Police Commissioner Raghavendra Auradkar told PTI on Tuesday that the police had formed squads to track down the assailant. "We are making all efforts to nab him." The ATM, located very close to a police station, had no security guard. The woman, identified as Jyothi Uday, is working as Section Manager with the Corporation Bank.
According to police, the assailant, in mid 30s, did not rob her of the jewellery she was wearing. The police said they have recorded the statement of the victim after she regained consciousness. The woman told police that the attacker spoke in Kannada and asked her not to raise an alarm and threatened her to withdraw money from the ATM and hand it over to him.

Image: CCTV footage shows the assailant threatening the bank official in an ATM in Bangalore