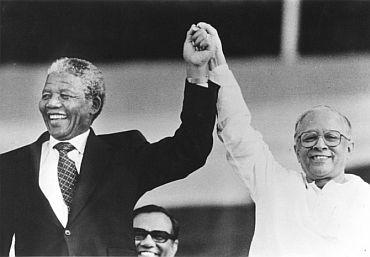 Kolkata police sergeant Guruprasad Banerjee, who acted as an escort to Nelson Mandela's convoy during his visit to Kolkata in October 1990, on Friday recalled the legendary anti-apartheid activist as one of the most down to earth international dignitaries.
"You have done an excellent job young man. God bless you," Mandela had told Banerjee followed by a hug, on the day when he left Kolkata.
The words and the gesture of an international leader like Mandela, has been one of the most cherished memories of Banerjee's career in police force.
It was just any other day for Banerjee in October 1990, when he received a call from then DC (traffic) Gautam Mohan Chakraborty's office to report for duty immediately. He was told that he will lead the escort convoy of Mandela during his visit to Kolkata.
"It was my first big assignment. I was then assigned as a escort sergeant to West Bengal Governor's convoy team," Banerjee told PTI.
Banerjee, now a retired person, remembered how Mandela's convoy had passed through populated areas of Kolkata, where people lined up on both sides.
"While the convoy was moving Mandela rolled down the glasses of his car and waved to the masses. He was very overwhelmed by the reception he received in Kolkata," said Banerjee.
On the day when Mandela was about to leave, Kolkata, a make-shift helipad was created at Kolkata race course, from where he was scheduled to leave for Kolkata airport to board his aircraft, Mandela shook hands with all the security personnel, from inspector to constable ranks and thanked them.

"It is a very rare gesture....I have been an escort sergeant to many dignitaries from former French president Francosis Mitterrand to Sri Lankan President, to Pope John Paul II to Hillary Clinton. But this was one of its kind experience," said Banerjee.
Mandela, 95, South Africa's first black President died early Friday morning in Johannesburg, throwing South Africa in a state of mourning with tributes pouring in from all corners of the world.

Image: Nelson Mandela with late West Bengal Chief Minister Jyoti Basu during his trip to Kolkata in 1990
Photograph: African National Congress Archives