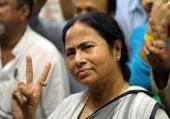 Accusing the United Progressive Alliance government of 'looting' and 'lying' to the country, West Bengal Chief Minister Mamata Banerjee on Thursday said the cap on subsidised LPG cylinders will seriously hit the midday meal scheme.
"Is this what the common people expect from reforms? In the name of reforms, 'loot chalche loot' (the country is being looted). To suppress it, 'jhoot chalche jhoot' (the government is lying)," Banerjee wrote on her Facebook page.
"This is a very sensitive matter. The central government has never thought of the fate of poor schoolchildren. There is a fear that these school children may have to go without food in schools due to the enormous increase in the price of non-subsidised LPG cylinder," Banerjee said.
Later, at a rally at Sarisahat in South 24 Parganas district, Banerjee was equally critical of the government.
"They are raising the price of kerosene, diesel and LPG at will, caring little to protect the midday meal scheme for school children, which may be seriously affected," Banerjee said.
Expressing determination to fight on, she said, "The Centre has been unashamedly attacking the poor, which I will not tolerate. I will not relent in my fight against injustice and atrocities. Throughout my life, I will continue my fight," she said.
Calling for intensifying protests against the Centre's 'anti-people policies', the Trinamool Congress said it had even raised the price of fertilizer, harming farmers.
In her Facebook post, Banerjee said the real impact of the restriction on subsidised LPG cylinders was unfolding now.
"Common people have been burdened with additional Rs 127 (exclusive of taxes) per cylinder. The price is likely to go up further in the coming months. I am told that more such unpleasant decisions are in the offing," she said.
At the rally at Sarisahat, she announced the setting up of a women's university at Diamond Harbour, a medical college, a hilsa research centre, an IT park at Falta and a food processing hub, among others.