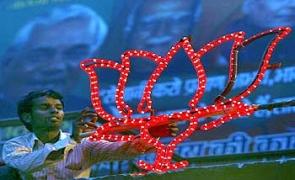 District authorities in Agra have cancelled the permission granted to the Bharatiya Janata Party for holding a farmers' rally led by party leaders L K Advani and Varun Gandhi in Akola village on Sunday on the grounds that it could disturb the law and order situation there.
BJP sources said the party had received permission in writing from authorities eight weeks ago to hold the 'Kisaan Swabhimaan' rally in Fatehpur Sikri area in Agra, but on Thursday night, senior police and administrative officials informed the party that it has been cancelled, fearing law and order problems.
Claiming that the rally was for farmers and there was no political agenda, the party claimed that cancellation of permission amounted to trampling of democracy and freedom of speech.
They said nearly one lakh farmers from the state were scheduled to attend the rally.
"The area where the rally was scheduled to be held has less than one per cent of minority population and is also about 200 km from riot-hit Muzaffarnagar," party sources said.
The denial of permission comes at a time when the state government is facing flak for communal clashes in Muzaffarnagar district and adjoining towns that left over 40 people dead.