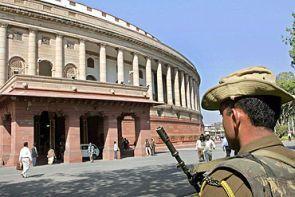 A Trinamool Congress member on Wednesday used the debate on price rise in the Lok Sabha to attack BJP over Tuesday's incident in the House where members came to the verge of a clash.
Rising to participate in the debate, Kakoli Ghosh Dastidar attacked BJP for using "foul" language against a woman chief minister and women MPs in the House.
She urged the chair to take action against members who had used objectionable language against TMC members.
There was an exchange of words between TMC and BJP members even as K V Thomas, who was in the Chair, urged Dastidar to stick to the point.
She said the hike in rail fares and freight rates and increase in diesel price will have a cascading effect on the poor as essential commodities will get costlier.
She said the Railway Budget does not offer anything to states like Kerala, West Bengal, Odisha and Tamil Nadu.
Members of TMC and ruling BJP on Tuesday were almost on the verge of physical clash in the Lok Sabha.