How did an Independent candidate win a seat in the face of the NaMo wave in UP?
Rediff.com's A Ganesh Nadar finds out.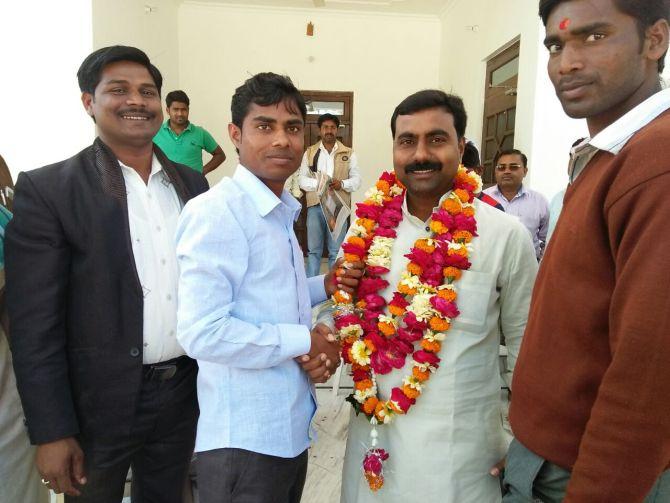 Vinod Kumar is one of three Independent candidates who won a seat in the Uttar Pradesh assembly election, withstanding the Narendra Modi wave which crushed established political parties and senior leaders in its wake.
In the previous assembly he was a legislator from the Samajwadi Party but once the party decided to not nominate him again, Vinod Kumar contested from Babaganj as an Independent, backed by the strongman of Pratapgarh, Raghuraj Pratap Singh also known as 'Raja Bhaiyya', in whose area of influence Kumar's seat falls.
Kumar's election affidavit makes for interesting reading, especially for the number of criminal cases it lists against him, ranging from dacoity to attempt to murder to rioting to kidnapping.
How did you win your seat in the face of the Modi wave?
I won because of the blessings of Raja Bhaiyya.
I won because of the work I have done for my people in my last two terms. This is my third victory here.
My USP is that I am always accessible to my people.
I always solve their problems whatever they might be.
They love me, they vote for me.
If you are so loved by the people how come you have so many criminal cases against you?
Last time when there was a Samajwadi Party government in Uttar Pradesh and their henchmen attacked my karyakarta I had to save my workers.
But when I saved them, the government filed all these violence cases against me.
It is all politics, all politically motivated cases.
It was a fight between two parties and I have cases against me because they were the ruling party.
What kind of development can you undertake when the ruling party has 325 MLAs?
Raja Bhaiyya will help me develop my constituency, I don't need the government.
I have my MLA funds, I have MP funds and also Raja Bhaiyya's influence. I will get all the work done easily.
Will you be able to speak in the assembly when there are over 300 people ranged against you?
When it is a question of the rights of my people I am ready to speak anywhere, fight anywhere.
They are talking about development and so they will help me develop my constituency too.
I have the love of my people. When my people support me, the government cannot ignore my demands.
I have been an MLA twice before. My father was an MLA twice before me. We always get work done.
What are your plans for the constituency?
There are no new plans. I will continue with the work that I was doing in the past.
Roads, water, electricity is what we need and I will get it done.
IMAGE: Three-time MLA Vinod Kumar being greeted by voters in Babaganj.