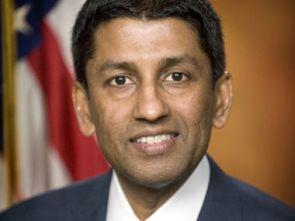 Indian-American legal luminary Sri Srinivasan was on Monday sworn in as a judge in the United States Court of Appeals for the DC Circuit, the second most powerful court in the US after the Supreme Court.
With this, the Chandigarh-born, 46-year-old Srinivasan has become the first Indian American judge in the second-most powerful court of the country.
Described by President Barack Obama as a "trailblazer", Srinivasan attributed his phenomenal success to his family and the Indian American community.
"You all made it possible," Srinivasan told a gathering of Indian Americans at a reception hosted in his honour by the Indian Ambassador to the US, Nirupama Rao.
"I am incredibly honoured and humbled by the tremendous support you have given me," he said.
Srinivasan was first nominated by Obama on June 11, 2012. On January 2, 2013, his nomination was returned to the President, due to the sine die adjournment of the Senate. On January 3, 2013, Obama re-nominated him for the same office.
Srinivasan was confirmed by a rare US Senate by 97-0 votes, which he attributed to the overwhelming support he received from the Indian American community throughout the nation.
Addressing the gathering, Rao said Srinivasan personifies the "extraordinary" accomplishments of Indian Americans in the country and much more.
Having achieved so much at this young age, Rao said the best was yet to come. She hoped that soon, there would be an Indian American in the US Supreme Court.
Srinivasan began his legal career by serving as a law clerk for Judge J Harvie Wilkinson on the US Court of Appeals for the Fourth Circuit from 1995 to 1996.