Sonia Gandhi's speech may not have been newsy enough, but her visit was memorable for the people of Rajkot, reports Kinner Acharya.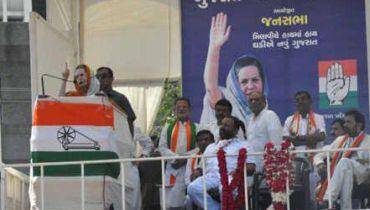 Congress President Sonia Gandhi, in her public speech at Rajkot on Wednesday, gave a call to create a new Gujarat.

Without naming Gujarat Chief Minister Narendra Modi, she criticised his government. Sonia Gandhi spoke about the high rate of VAT in the state and criticised how the Narmada waters had not yet been brought to Saurashtra, and explained how farmers in Gujarat would benefit from Foreign Direct Investment in retail. She also spoke about the areas where lack of rain has created hardships for the people.

Her meeting drew a mammoth crowd with thousands of people arriving from the villages in trucks. Sonia Gandhi began her speech by paying her respects to Saurashtra, the land of Mahatma Gandhi.

She told the audience that the Congress party believed in Gandhi's ideals, but its rivals believed only in destruction and darkness. No other party had done as much as the Congress had in Gujarat, she said.

The Congress president recalled Sardar Vallabhbhai Patel and credited the Congress party for naming the Sardar Sarovar project after India's first deputy prime minister.

Sonia Gandhi, on Wednesday, was aggressive in her speech. Local Congressmen were most impressed by the energy with which she spoke.

She said it was the Bharatiya Janata Party that did not allow the Lokpal Bill to be passed in Parliament. "How can the BJP talk about corruption?" she asked.

In her first speech on the eve of the announcement of the dates for the Gujarat assembly election, a galaxy of Congress leaders were present on the dais with her. Ahmed Patel, her political secretary,Mohan Prakash, the party general  secretary in charge of Gujarat, Union Minister Dinsha Patel were among those present at the meeting.

Local Congress leaders like Shankarsinh Vaghela, Arjun Modhwadia and Shaktisinh Gohil were also present. The party machinery had worked hard to arrange the huge crowd and make the event successful

To entertain the crowd, the organisers played music by popular folk singer Praful Dave. People from the villages had come to the meeting with difficulty, what they called 'Bhadrava na tadko'. A month before Diwali it is usually warmer in this part of the region. Five humorous songs against Modi were released on the occasion.

The meeting showed that the Congress party was geared up for the poll. The venue had enough Gandhi topis, stoles and propaganda material on sale.

After

a long time Rajkot felt the presence of Congressmen. Several areas in Rajkot witnessed traffic jams. Congressmen were jubilant that after a long time they had an opportunity to block the roads.

Sonia's visit to the Ramkrishna Ashram too was a hit. Swami Sarvashthanand of the ashram presented her with a memento and blessed her. Many elders remembered that in the past whenever then prime minister Indira Gandhi visited Saurashtra, she would make it a point to visit Dwarka and the Somnath temple. Sonia's visit to the Ramkrishna Ashram sent multiple messages.

Many think that Sonia wants to convey that "Instead of hardcore Hindutva her party wants to follow Swami Vivekananda's Hindutva, which is the true colour of Hindutva".

Sonia's visit to Bal Bhavan was short and warm. The Gandhian trustees welcomed her. She took photographs with children dressed as Nehru, Gandhi, Indira Gandhi and herself too.

The Congress president smiled a lot and said "this would be one of my memorable visits." She  looked at photographs showing previous visits by Jawaharlal Nehru and Indira Gandhi, her late grandfather-in-law and late mother-in-law.

Looking at a picture of Indira Gandhi in a fine ethnic saree, Sonia Gandhi exclaimed, "Very nice!"

She met and interracted with children at Bal Bhavan and also went through the children's books in the library. She profusely congratulated managing trustee Mansukhbhai Joshi. Sonia was seen brooding for few moments before some photographs of Indira Gandhi at Bal Bhavan. Continuing the tradition of her family, Sonia Gandhi planted a mango sapling. She was rendered speechless when she saw the mango tree planted by Nehru during his visit.

On her short visit to Rajkot, Sonia also visited Kaba Gandhi no Delo (Kaba Gandhi's house). At the entrance was written Gandhi's immortal quote in Gujarati, 'I prefer death then abandoning truth'.

Gandhiji lived in this residential complex while studying in school. Sonia travelled through populated areas to visit this historic site.

Sonia was touched to see photographs of a ten-year-old Indira Gandhi sitting near the bed of an ailing Gandhi. She seemed interested in viewing some exclusive pictures of the author Tolstoy too.

When she saw Gandhiji's pictures of the salt satyagraha she said aloud, "Salt satyagraha ki tasveer hai, I remember it!" She folded her hands on seeing a photograph of Gandhi's parents. She had forgotten her pair of spectacles in her car, so she could not write her comments in the visitors' book.

Even though Sonia Gandhi's speech was not newsy enough, her visit was memorable for the people of Rajkot. Also, the event showed that the Congress's organisational capacity had improved many fold in the last five years.