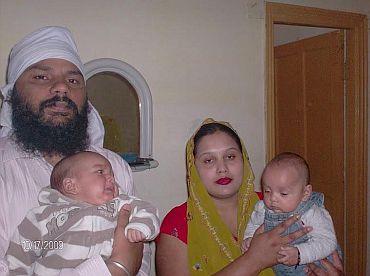 Robin Singh, one of the four Sikhs who were abducted in Peshawar, Pakistan, continues to be in Taliban custody and with every passing day his parents, who are Canadian residents, lose a little more hope. Robin, an IT specialist and programmer, teaches in a college in Peshwar. He was abducted February 11, as he was returning home from work.
Now, over a month later, his family has no information beyond the fact that after he was kidnapped someone called Robin's brother, Rajan, saying 'we have your brother'. The same caller called back after a couple of days and asked for Rs 1 crore (about $200,000) as ransom.
Robin's father Bishan Das, who lives in suburban Brampton in Ontario, told rediff.com that, "We have no information about Robin's whereabouts. Rajan received those two telephone calls from the Taliban. They haven't contacted us after that. Where do we find Rs 1 crore ($200,000)? Maybe Rs 5 lakh ($11,000) or even Rs 10 lakh ($22,000) can be arranged."
The local gurdwaras said they would raise some funds, but to his dismay, they have raised only $361.00 so far.
In the meanwhile, said Bishan Das, they have tried everything they could. Soon after the kidnapping, he had contacted Pakistani Minister Shahbaz Bhatti, who's a Christian. "I know him very well and he was alarmed to hear about my son. He's doing his best, but what can he actually do!"
Now, there are threats against Rajan too. Bishan Das said, "They are threatening him in various ways. They have said 'don't contact the police or we will kill you'.
"We can't eat, we can't sleep. Our life has turned upside down."
Liberal MPs Ruby Dhalla and Gurbax Malhi have separately spoken with Bishan Das, but "nothing has come out of that."
Conservative lawmaker Tim Uppal told rediff.com that the Canadian government wouldn't comment on individual cases. He traveled to Peshwar last year and saw first hand the condition of Sikhs there. He also visited Panja Sahib gurdwara and saw how hundreds of Sikhs were camping there.
Another Conservative lawmaker, Devinder Shory, said, "Communities across Canada are concerned about the kidnapping and beheading of innocent people in Pakistan, and we offer our sympathy to the affected families."
Dr Kuldip Kular, Liberal member of Ontario legislature, said in a statement, "I am deeply saddened to hear of the disappearance of Robin Singh and offer my most heartfelt condolences to his family. As a father myself, I can imagine the grief his loved ones are experiencing. I implore anyone who's able to assist in his safe return to do so and ask that Robin and his family be kept in our thoughts."
A few days back, Bishan Das said he received a call from Canada's Department of Foreign Affairs and the official asked for some details about Robin. After that, "there's been no news if the Canadian government has contacted the Pakistani authorities."
"I told the Canadian official half of my family was in Canada — we are Canadians," he said.
Bishan Das was vice-president with the National Bank of Pakistan, but decided to join his middle son Sajan Singh in Brampton for safety reasons. "We are all Canadian citizens, so I request the Canadian government to help us trace our son. Once he's found, Canada should issue visas to both my sons — Rajan and Robin — so that my entire family can be together and safe here in Canada."
Meanwhile, in Pakistan, Hardyal Singh, the coordinator for FATA Sikhs, a Sikh community organization in Peshwar, spoke about the miserable condition of the community in the country. He is a relative of Jaspal Singh, the Sikh who was beheaded by the Taliban last month.
In a telephone interview, he said there was nothing that the Sikhs in Peshwar or other parts of Pakistan could do about Robin's abduction. "In fact, there were 60 Sikh families in Khyber agency, about 7.5 miles away from Peshwar, whose lives are at risk and these families need to be rehabilitated to a safer area."
He recounted, "Jaspal was mercilessly beheaded last month. That left Gurvinder Singh and his uncle Surjeet Singh under Taliban custody. They fled from the Taliban March 1 and after walking for 4 hours, when they reached a Pakistani army check post, the army men mistakenly fired on Surjeet. He is still in hospital."
Gurvinder has reportedly said, 'All they wanted was money. They were not religious men. Always before contacting our family, they would beat us violently so that our family would feel our pain and pay the ransom.' The Pakistani police also seem helpless, as they too are under constant threat from the Taliban, added Hardayal.
Image:  Robin Singh with his wife and children in Pakistan, before he was abducted.
Photograph:  Courtesy Bishan Das.