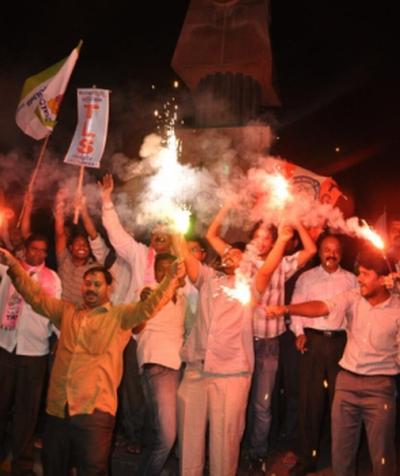 The Supreme Court on Monday refused to entertain a PIL challenging the Union cabinet's decision to bifurcate Andhra Pradesh to carve out a separate Telangana state.
A bench of justices H L Dattu and Madan B Lokur said the petition filed against the bifurcation of the state is pre-mature as Parliament and state legislature are yet to pass it.
"We don't know the mind of state legislature or Parliament and what they will do. It is pre-mature," the bench said.
It, however, said that all legal issues raised in the petition can be kept open to be argued at an appropriate stage.
"We decline to entertain the petition. However, we clarify that all legal issues raised in the petition are kept open to be argued in appropriate petitions at an appropriate stage," the bench said.
The petition was filed by D A Somayajulu, currently serving as a member of the Political Affairs Committee of YSR Congress, challenging the Centre's move to carve out Telangana from Andhra Pradesh.
The petition claimed that it was an arbitrary and irrational decision resulting in large scale protests, loss of life and revenue across the state.
The petition had sought directions for declaring the Cabinet resolution of October 3 as being unconstitutional.
It had also sought direction for restraining the President from initiating any recommendation in terms of Article 3 for the bifurcation of Andhra Pradesh and creating Telangana until a rational policy on the creation of states is laid down.
Further, the petition had said the present decision to divide Andhra Pradesh is clearly based on political motivations of the Congress that leads the coalition government at the Centre and cannot be defended against a challenge based on Article 14 of the Constitution.
The petition, which was settled by senior advocate Harish Salve, had contended that "Article 3 of the Constitution cannot be invoked as a political tool to cleave a political division for the purposes of the party at the Centre".
"The creation of a new State has to be based on valid and tenable considerations emanating from a policy regarding the creation of States. In the absence of such a policy, the creation of a new state (or states) will be invalid," it had said.
Image: Pro-Telangana activists cheer the Centre's decision to create a new state ' Photograph: SnapsIndia